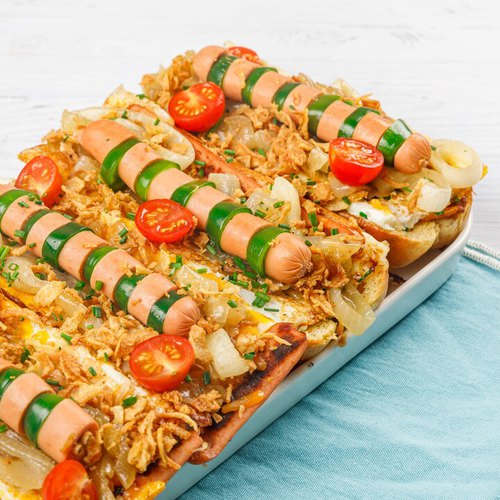 Blazing Breakfast Dogs
Blazing Breakfast Dogs! Another doggity good recipe :)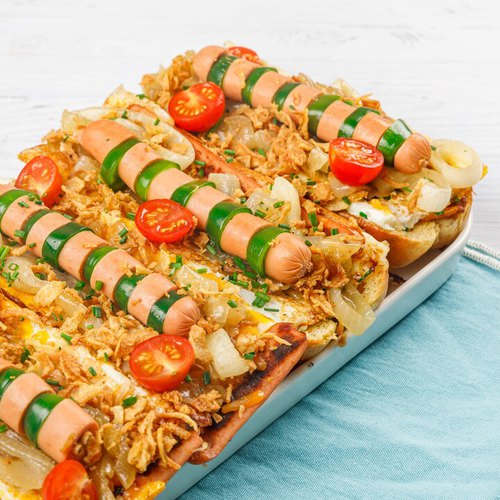 ---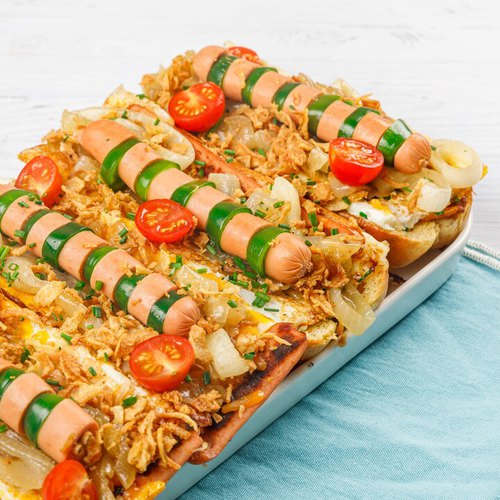 ---
Total time: 30 minutes
Cook time: 30 minutes
Ingredients for 3 people
6 hot dog buns
6 hot dogs
6 jalapeños
12 pretzel sticks
1/2 tbsp of chives
18 slices of bacon
1 cup of shredded cheddar
1 cup of shredded mozzarella
10 eggs
salt & pepper
---
Tools
Straw
---
Step 1/4
Take 2 hot dogs and cut them into quarter inch slices. Remove the center of each slice with the help of a straw. Cut the peppers into even slices. Place a pretzel stick through the center alternating a slice of hot dog and a slice of jalapeño. Set aside.
Step 2/4
Slice remaining hot dogs down the center and place them flat side down on the grill. Create a rectangle making sure all edges are touching.
Step 3/4
Pour the eggs into the hot dog rectangle. Sprinkle chives and shredded cheese mix on top. Place 6 cooked bacon slices on the cheese. Place an open face hot dog bun onto each bacon strip.
Step 4/4
Allow eggs to cook. Seperate each hot dog using a spatula to cut through and flip them over. Place 2 more cooked bacon strips into each bun and top with the jalapeño and hot dog pretzel skewer. Enjoy!