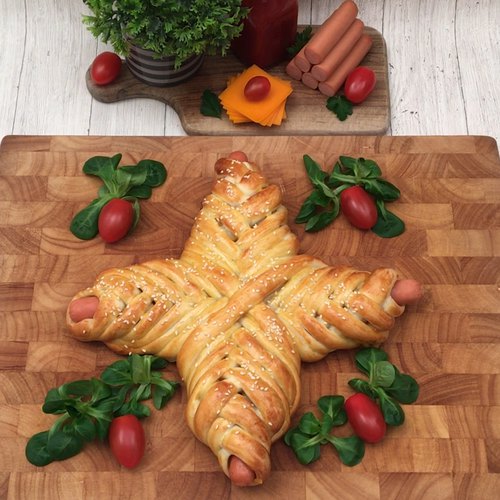 Hot Dog Star
Kid's menu, but make it fashion. 🌭💫👯‍♀️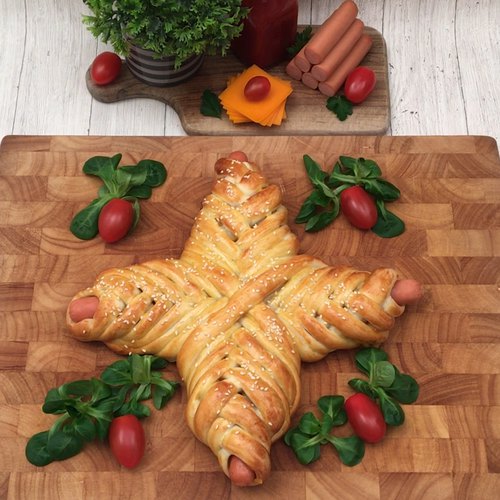 ---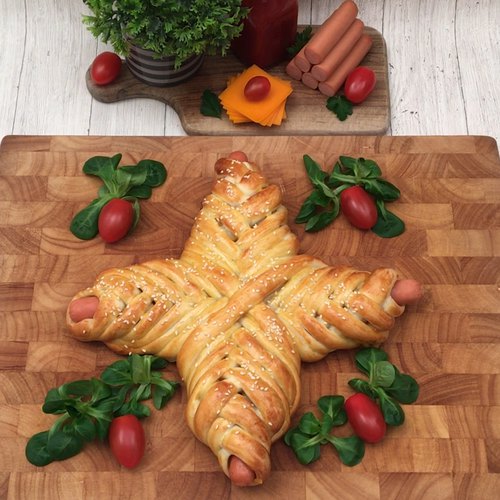 ---
Ingredients for 4 people
1 square block cheddar cheese
4 hot dogs
3 pizza doughs
3 egg yolks
sesame seeds
ketchup
onion jam
---
Tools
Baking tray
Parchment paper
---
Step 1/3
Cut the block of cheddar cheese in 4. Arrange the hot dogs in a star shape and place a piece of cheddar cheese to the right of each hot dog.
Step 2/3
Cut the pizza doughs in a spiral and assemble them into a single long strip. Make a loop around the top of the first hot dog with the dough strip then make a loop sound the top of the next one to the right, make a loop around the next one, then around the last one, and make a loop around the first one again to make a square with the strip of dough, each corner of which loops around a hot dog. Repeat the pattern going down along the hot dog and cheddar to the center to form a star.
Step 3/3
Brush with egg yolk, place on the baking tray lined with parchment paper, sprinkle with sesame seeds, and bake at 350 °F for 20 min. Cut in 4 and enjoy by dipping in ketchup or onion jam!