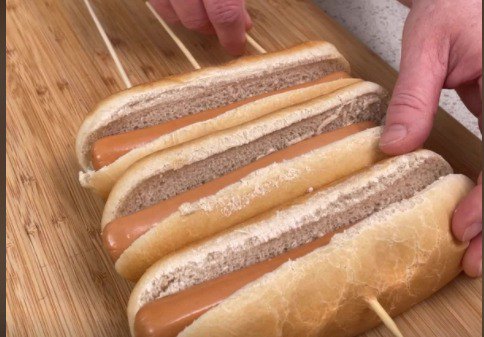 Dippin' Chili Cheese Dog
Dippin' Chili Cheese Dog! Take the plunge into this new recipe 😋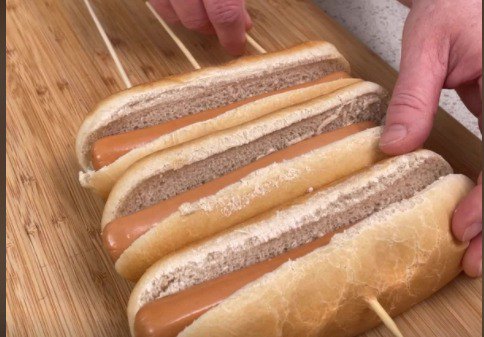 ---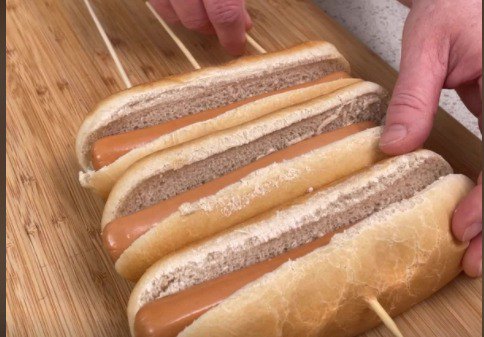 ---
Total time: 1 hour
Cook time: 1 hour
Ingredients for 6 people
12 oz of cheddar block
2 cups of chili
12 oz of ground beef
Salt & pepper
1 tbsp of olive oil
12 slices of cheddar
12 slices of monterey jack
6 hot dogs
6 hot dog buns
Sour cream
2 green onions
---
Tools
Whisk
Skewers
---
Step 1/4
Heat the sauce pan over low heat. Add the 12 oz of cheddar and let it slowly melt, whisking from time to time to prevent sticking. Once the cheese is fully melted, add the chili and leave the pan on low heat while you complete the remaining steps.
Step 2/4
Combine the ground beef in a mixing bowl, adding salt and pepper to taste. Form the seasoned beef into meatballs. Heat the sauté pan over medium-high heat, add the olive oil, then add the meatballs and cook until nicely browned on all sides. Add the meatballs to the chili-cheese, maintain the temperature.
Step 3/4
Cook the hot dogs in the same saute pan, then place each into a bun. Stack three hot dogs in the buns together and insert three skewers through. Repeat with the remaining hot dogs. Cut the hot dogs and buns into 6 skewers. Toast the skewers in the sauté pan or on the griddle.
Step 4/4
Add alternating strips of cheddar and Monterey jack to the sauté pan or griddle ( 8 strips of each). Let the cheese begin to melt, then slowly roll a skewer up in the melted cheese. Repeat with the remaining cheese and skewers. Serve with the chili-cheese sauce and enjoy!