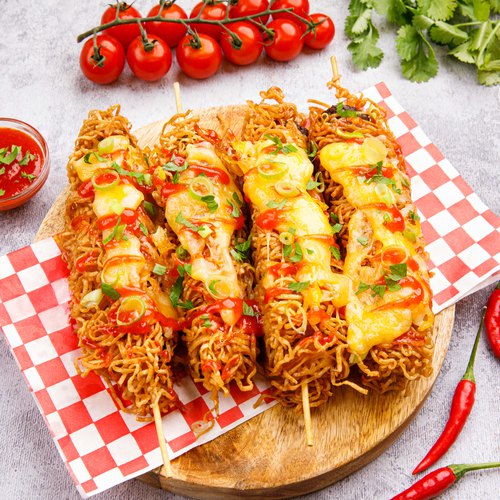 Noodle Dog
Yes, we went there :)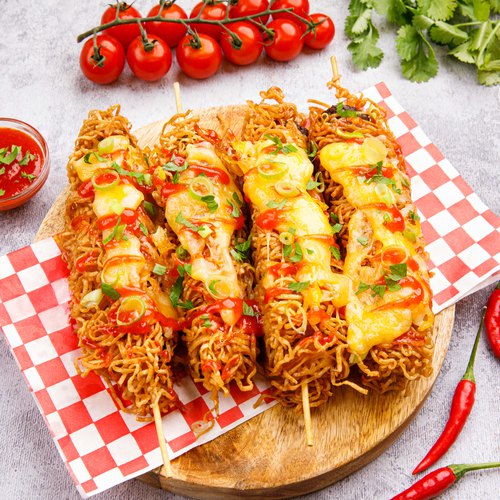 ---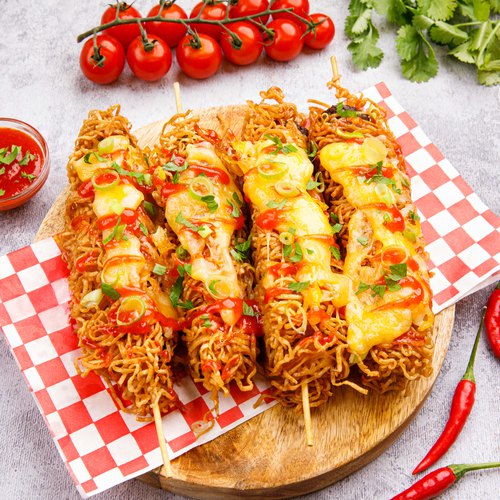 ---
Total time: 1 hour 5 minutes
Prep time: 45 minutes, Cook time: 20 minutes
Ingredients for 6 people
6 packets ramen
3 hot dogs
3 cups of nacho cheese
sunflower oil
1/2 lb of sirloin steak
1/2 lb of block white cheddar
mixed greens
green onion
hot sauce
---
Tools
Skewers
Cooling rack
---
Step 1/4
Place ramen packages in a bowl, make a slit in the top of the packaging, add the seasoning to each packet followed by hot water. Empty the ramen onto a cooling rack to drain any excess liquid and spread out the noodles.
Step 2/4
Insert skewers into 3 hot dogs. Dip one hot dog into a cup filled with hot nacho cheese. Coat evenly and then roll the hot dog in a layer of ramen noodles until completely covered. Fry in hot oil until golden brown. Repeat with the remaining hot dogs.
Step 3/4
Arrange 3 strips of steak and 3 strips of white cheddar on your work space, alternating strips of meat and cheese. Insert 3 skewers into the strips at the bottom of the block as seen in the video. Dip each strip in nacho cheese, coat with ramen, and deep fry in hot oil until golden brown.
Step 4/4
Serve on a bed of mixed greens, drizzle with remaining nacho cheese and hot sauce, and sprinkle with chopped green onions. Enjoy!