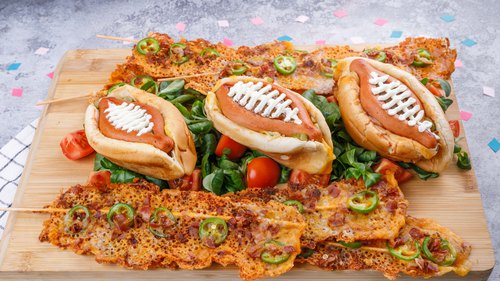 Game Day Hot Dogs
Game Day Hot Dogs! A great way to kick off the afternoon with friends 😎🌭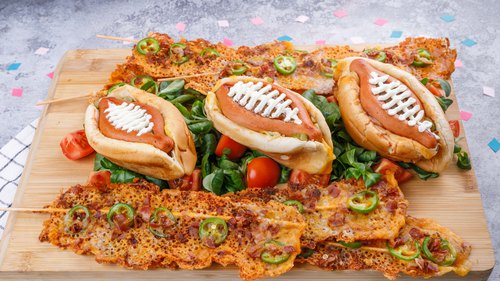 ---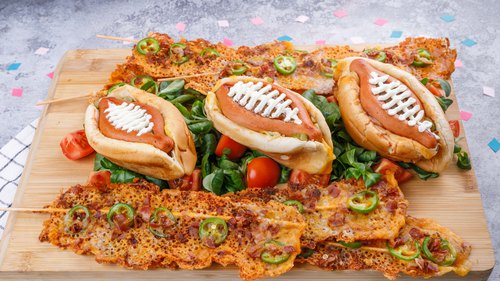 ---
Total time: 45 minutes
Cook time: 45 minutes
Ingredients for 4 people
4 hot dogs
6 oz of ground beef
Salt & pepper
1 beer
2 onion
2 tbsp of butter
4 hot dog buns
Ketchup
4 jalapeños
10 oz of monterey jack cheese
2 oz of cream cheese
---
Tools
Skewers
Scissors
Shot glass
Ziplock bag
---
Step 1/4
Heat the plancha to 350°F. Cut and place the hot dogs on the hot griddle. Insert a shot glass into the middle of each hot dog to hold the shape open. Once the hot dogs are able to keep their shape, remove the shot glasses and place a ball of ground beef in the middle of each hot dog. Add a splash of Budweiser to each hot dog-burger and cook on both sides until done. Remove from the plancha and reserve.
Step 2/4
Slice the buns open. Add the butter to the griddle and sauté the onions until they are translucent. Add a shot of Budweiser to the onions and cook until the liquid evaporates. Add the buns to the griddle and toast them on the outside. Add 8 separate tablespoons of shredded cheese to the plancha. Place the buns face down into the melted cheese. Seal the ends of each bun together with the cheese. Reserve with the hot dog-burgers.
Step 3/4
Place 4 skewers at a time on the griddle. Add three large pinches of shredded cheese along the length of each skewer. Top with sliced jalapeños and some chopped bacon. Cook until the cheese is melted. Carefully remove from the griddle and repeat with the remaining cheese, jalapeños and bacon.
Step 4/4
Divide the sautéed onions between the four buns. Top with your favorite condiments (ketchup, mustard, etc.). Add a hot-dog burger to each bun. Pipe the cream cheese on top of each burger in order to resemble a football. Serve with the jalapeño cheese crisps. Enjoy!