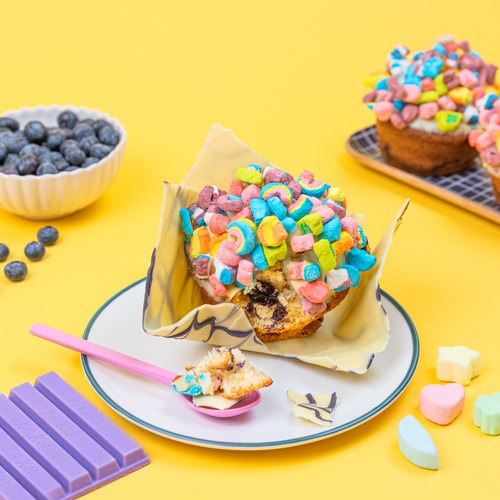 Kit Kat Stuffed Blueberry Muffins
Kit Kat Stuffed Blueberry Muffins! An exciting new treat 🧁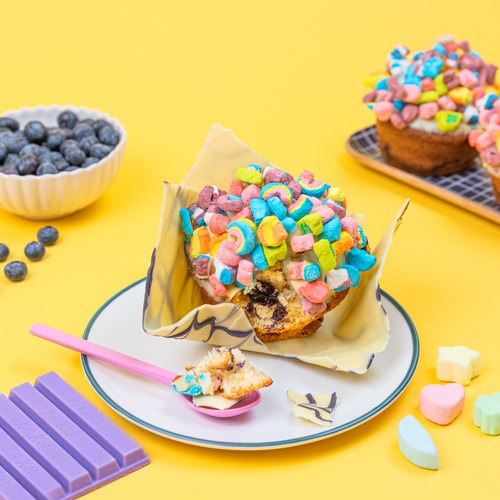 ---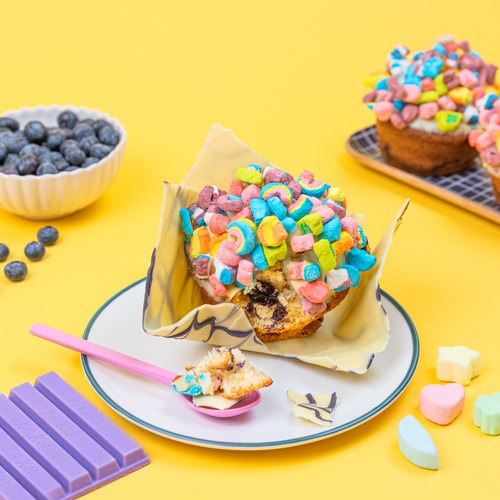 ---
Total time: 3 hours 30 minutes
Prep time: 10 minutes, Cook time: 20 minutes, Rest time: 3 hours
Ingredients for 4 people
Blueberry muffin batter
White chocolate
Blueberries
Orange zest
Marshmallow cereal
Kit kat bars
Purple candy melts
Vanilla ice cream
---
Tools
Toothpick
parchment paper
---
Step 1/5
Add orange zest to the blueberry muffin batter and divide the batter evenly among the muffin cups, filling each about 2/3 full. Bake at 375°F for 20 minutes. Allow to cool completely.
Step 2/5
Hollow out the bottom of the muffins. Garnish with the chopped Kit Kat bars and a scoop of ice cream. Close the muffins and dip the tops in melted white chocolate. Top with marshmallow cereal and refrigerate.
Step 3/5
Spread white chocolate on a square of parchment paper and drape over a glass. Dye some of the melted white chocolate with red and blue food coloring that is chocolate-safe or use purple candy melts. Mix well and drizzle the purple chocolate over the white chocolate. Use a toothpick to create the design. Place in the freezer to set.
Step 4/5
Blend the blueberries and pour into a muffin pan. Place in the freezer until solid. Unmold and coat in white chocolate.
Step 5/5
Remove the parchment paper and place the frozen blueberry disk inside. Place the muffin on top, serve and enjoy!