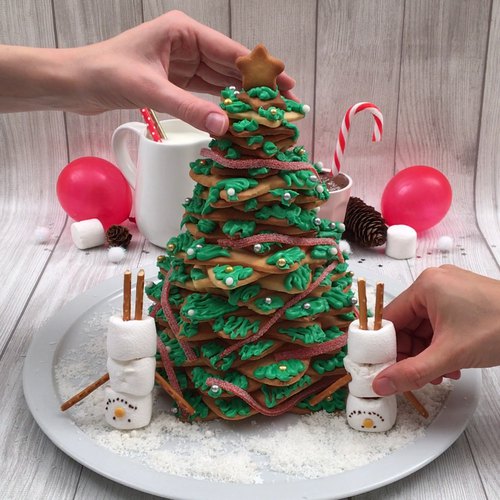 Holiday Dessert Ideas
7 sweet ideas you'll love to create 🎄✨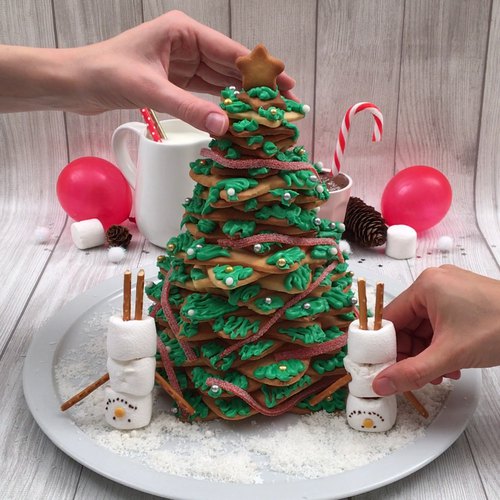 ---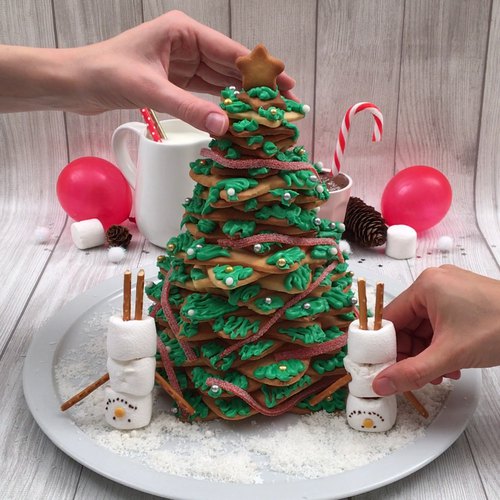 ---
Total time: 1 hour 30 minutes
Prep time: 1 hour 30 minutes
Ingredients for 6 people
chocolate candies
flying saucer candies
dark chocolate
cake
grated coconut
ladyfinger cookies
coffee
mascarpone cream
cinnamon sticks
star anise
cocoa powder
shortbread crust
white icing
sprinkles
m&m's ®, red
red icing
chocolate pearls
pretzel sticks
marshmallows
green icing
string candy
green frosting
---
Tools
Clothes hanger
Needle
Thread
String lights
parchment paper
Empty milk carton
Gingerbread man cookie cutter
Chefclub star templates
---
Step 1/6
Stretch out a hanger into a circle. Using the needle, thread the chocolate candies through their wrappers and tie it around the hanger to cover it completely with candy. Add a fabric knot at the top. Hang the hanger and enjoy.
Step 2/6
Stick the mini-bulbs of an electric garland into the saucer candies so that it lights up!
Step 3/6
Pipe a line of dark chocolate onto parchment paper and then draw Christmas trees. Chill for 20 minutes. Stick the trees onto a frosted cake. Add decorations and sprinkle with grated coconut.
Step 4/6
Cut off one side of an empty carton and arrange a layer of ladyfinger cookies into the bottom. Brush with cold coffee and cover with mascarpone cream. Place cinnamon sticks and star anise on the sides of the carton. Top with a layer of ladyfingers and mascarpone cream and finish with ladyfingers. Chill for 1 hour. Turn out of the mold, sprinkle with cocoa powder, decorate and enjoy.
Step 5/6
Cut out a shortcrust pastry with a cookie cutter, place on a baking tray lined with parchment paper and bake for 15 minutes at 350 °F. Cut a sheet of parchment paper in half into triangles and roll one of the halves into a cone. Fill the cone with melted dark chocolate and cut a small hole at the top of the cone to use as a piping bag. Color the cookies' heads and arms with chocolate. Fill a similar bag with white icing. Pipe lines of frosting from the chocolate to the ends of the legs. Make small lines on the sides of these lines. Place 2 white sprinkles in the center of the men on top of the chocolate. Add dots of dark chocolate on sprinkles and then a red M&M ® on the man's head to make reindeer cookies.
Step 6/6
Download the Chefclub star template (https://www.dropbox.com/work/AXEL?preview=Etoiles+Chefclub+No%C3%ABl.pdf) and cut out each size 4 times in shortbread dough. Arrange on a baking sheet lined with parchment paper and bake for 15 minutes at 350 °F. Stick 3 marshmallows onto 2 pretzel sticks. Stick 2 half pretzel sticks into the sides of the middle marshmallow. Draw a face with dark chocolate on the topmost marshmallow and use a sprinkle for the nose. Stick all the star cookies together with green icing, stacking them from the largest to the smallest, rotating each by 90° to make a Christmas tree. Color the protruding ends with green icing and then decorate them with candy pearls. Cut red string candy lengthwise and use them as garlands.