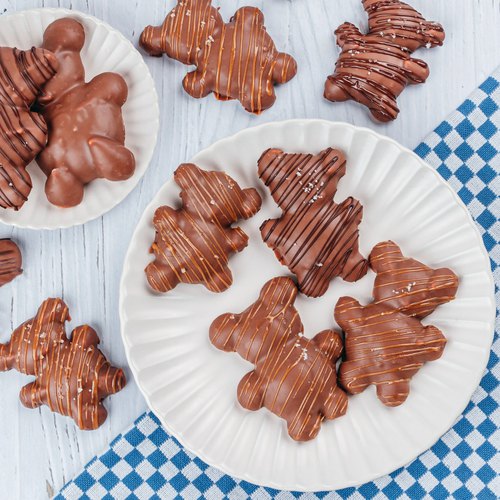 Little Marshmallow Bears
Little Marshmallow Bears! A beary sweet treat just for you 🐻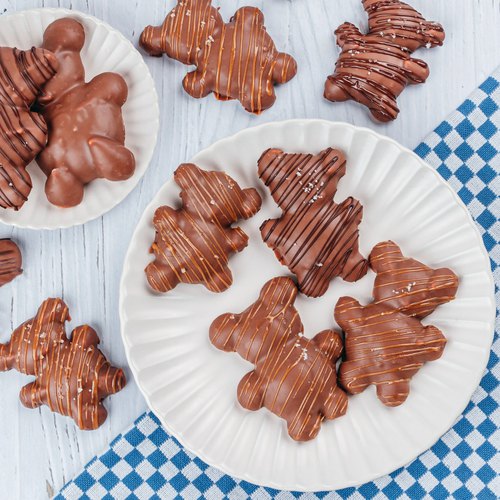 ---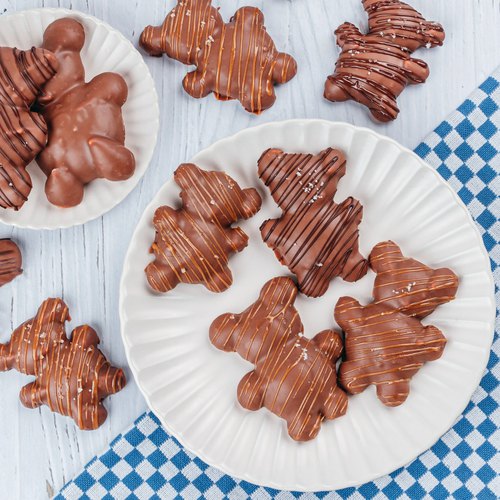 ---
Total time: 2 hours
Prep time: 1 hour , Rest time: 1 hour
Ingredients for 6 people
4 egg
1 cup of sugar
1 vanilla bean
3 tbsp of corn syrup
4 gelatin sheets
4 cups of corn flour
2 oz of salted caramel sauce
9 oz of milk chocolate
1 oz of dark chocolate
Coarse salt
---
Tools
Piping bag
Toothpicks
parchment paper
Chefclub baking mat
---
Step 1/3
Separate the whites from the yolks. Beat the egg whites with 5 tbsp of sugar and 1 scraped vanilla bean. In a pan, heat the corn syrup. Place the gelatine sheets in the water to hydrate. Heat 0.6 cup of sugar, add the syrup, the vanilla bean, the gelatine leaves, mix well and allow to cook. Pour the mixture into the egg whites and beat in a mixer. Place the mixture in a piping bag to make the marshmallow.
Step 2/3
Sprinkle the baking mat with corn flour. Pipe the marshmallow in the shape of a teddy bear and place the salted caramel in the center. Coat the bears with corn flour and let them rest for 30 minutes at room temperature.
Step 3/3
Melt the milk chocolate. Skewer the teddy bears with toothpicks, cover them with melted milk chocolate, place them on a pastry rack and refrigerate for 30 minutes. Melt the dark chocolate, make 2 cones of parchment paper, pour the rest of the caramel syrup in one cone, the melted dark chocolate in another and pour over the bears, making lines. Sprinkle the teddy bears with a pinch of coarse salt, place them on a plate and enjoy!