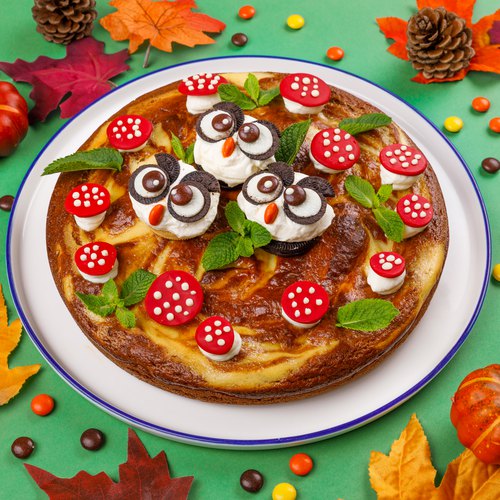 Plump Pumpkin Bread
Plump Pumpkin Bread! Bite into something delicious 😃🎃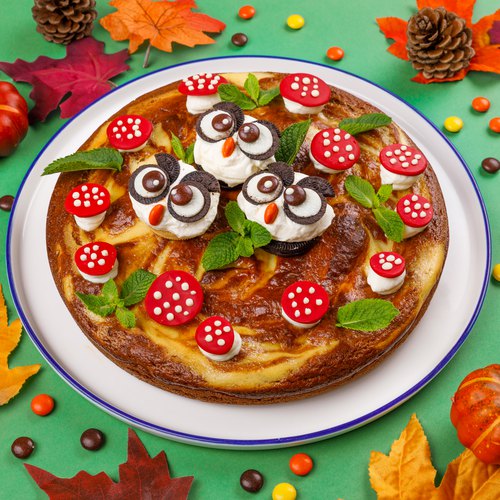 ---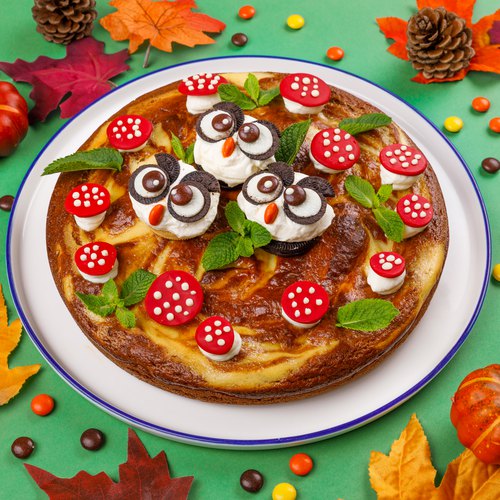 ---
Total time: 1 hour 30 minutes
Cook time: 1 hour 30 minutes
Ingredients for 6 people
1/2 cup of butter
1 cup of flour
1 tsp of baking powder
1 tsp of pumpkin spice blend
1 cup of pumpkin puree
0.3 cup of sour cream
1 tsp of vanilla extract
0.3 cup of brown sugar
1/2 cup of sugar
2 egg
1/2 cup of cream cheese
1/2 cup of red chocolate
1/4 cup of white chocolate
Whipped cream
4 oreos
6 mini oreos
Mint leaves
Reese's pieces
---
Tools
Plastic sheet protector
Whisk
parchment paper
---
Step 1/4
Preheat oven to 350˚F. In a bowl add the flour, 1/4 cup of sugar, brown sugar, pumpkin spices and baking powder. Add the pumpkin puree, sour cream, vanilla and eggs. Slowly pour in the melted butte and mix until just combined. In another small bowl, beat the cream cheese, sugar, egg and 1 tbsp of flour until smooth. Pour half the pumpkin batter into a round cake pan or springform pan. Spread the batter then pour the cheesecake on top. Spoon the rest of the pumpkin batter onto the cheesecake batter then using a knife or a skewer, swirl the pumpkin and cheesecake together for a marbled effect. Bake for 30 minutes.
Step 2/4
Melt the red chocolate. Pipe out dots onto a piece of parchment paper then cover with a plastic sheet protector. Press down lightly to create little disks. Chill. Melt some white chocolate and pipe little white dots onto the red chocolate disks. Allow to set.
Step 3/4
Separate some oreos using the side with cream for the eyes, top with a reese's pieces. Onto the large oreo halves, make a dome of whipped cream, top with the oreo pieces and the two eyes. Place a reese's pieces for the beak. Place the little owls onto the cooled pumpkin bread.
Step 4/4
Pipe the whipped cream onto the cake and top them with the red chocolate disks. Add fresh mint leaves to decorate the cake. Serve and enjoy!