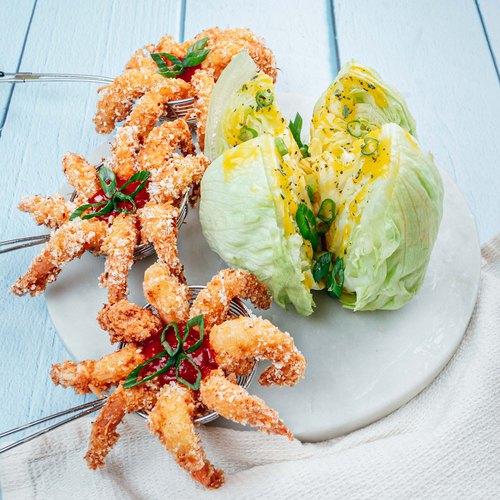 Shrimp is the fruit of the sea
Shrimp is the fruit of the sea!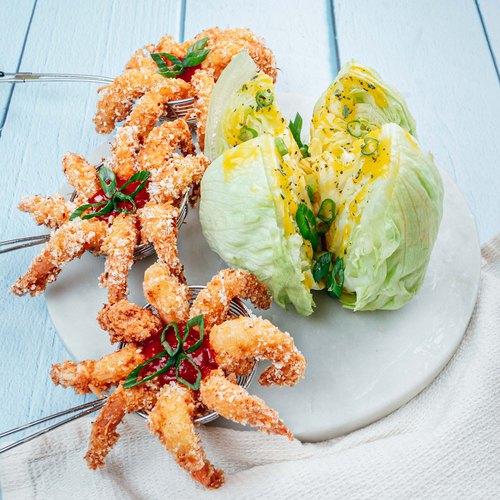 ---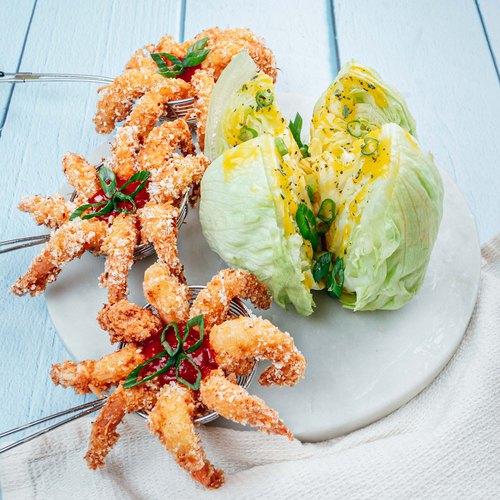 ---
Total time: 50 minutes
Prep time: 10 minutes, Cook time: 10 minutes, Rest time: 30 minutes
Ingredients for 4 people
3 cups of mango
1 red onion
2 jalapeños
1/2 cup of cilantro
1 lime juice
1 1/4 lbs of shrimp
1 cup of shredded coconut
1 cup of breadcrumbs
0.3 cup of flour
2 egg
1/2 tbsp of garlic powder
1/2 tbsp of salt
1 1/2 cups of olive oil
3 iceberg lettuce
Honey
---
Tools
Ladle
---
Step 1/3
Rinse the shrimp under cold running water, then, pat them dry on paper towels. Set up a dredging station. The first bowl should contain the flour, garlic powder, and ½ teaspoon of salt. In the second bowl, add the two eggs and whisk to combine. The third bowl will contain the shredded coconut and the breadcrumbs, toss or stir to combine. Grab the shrimp by the tail, dredge it in the flour, shake off any excess. Then, dip it in the egg mixture and finally in the coconut mixture. Place the coated shrimp on a clean baking sheet. Continue with the remaining shrimp. Place in fridge for 30 minutes.
Step 2/3
Heat oil in large skillet over medium-high heat. Fry the shrimp until golden brown. Remove from heat and drain on a paper towel. You can also line shrimp in circular shape inside the ladle before frying. Place another ladle on top of shrimp while frying to add some weight so they remain in the same circular shape.
Step 3/3
Cut wedges of iceberg lettuce into quarts. Take 1 cup of fresh mango (about 2 medium mangoes), 1 tablespoon honey, 1 tablespoon of lime juice, 1½ cup of olive oil , salt and pepper. Drizzle mango sauce on salad before adding the fried shrimp. Make the mango salsa by mixing the remaining cut mangos, jalapeños, red onion and cilantro. Add to a glass and serve with the shrimp cocktail and salad. Serve and enjoy!