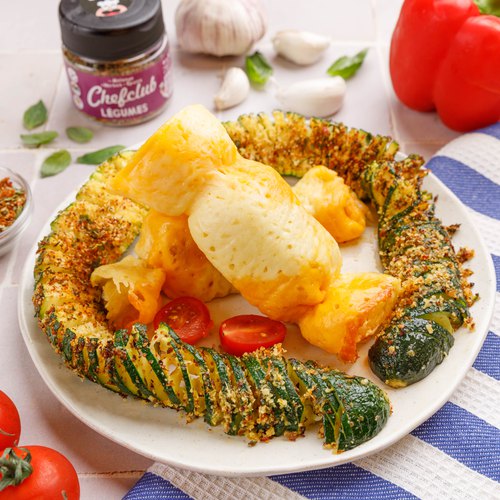 Cheesy Cordon Bleu
Cheesy Cordon Bleu! Just add some veggies for an easy dinner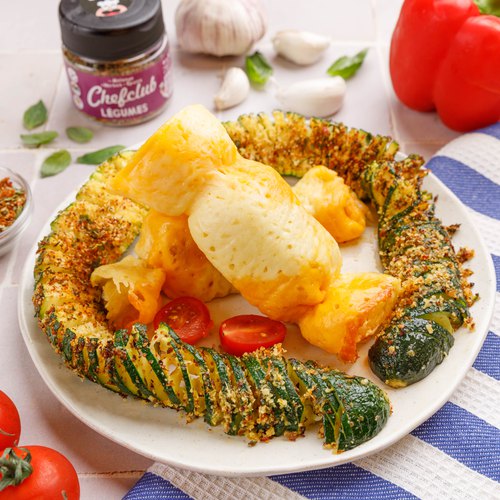 ---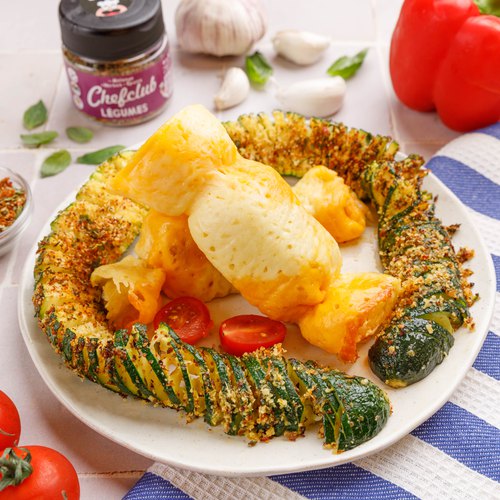 ---
Total time: 40 minutes
Prep time: 25 minutes, Cook time: 15 minutes
Ingredients for 3 people
3 zucchinis
6 tbsp of breadcrumbs
2 oz of shredded cheddar
2 oz of grated emmental (or other cheese of your choice)
2 chicken breasts
2 slices of emmental cheese
2 slices of ham
4 tbsp of spices
---
Tools
Skewers
---
Step 1/4
Cut the zucchinis in half lengthwise, place the half-zucchini between two chopsticks and cut them diagonally on each side to obtain accordion zucchinis. Place the accordion zucchinis on a baking sheet, drizzle with olive oil, mix the breadcrumbs and spices, then sprinkle them on the zucchinis. Bake for 5 minutes at 390°F.
Step 2/4
Sprinkle the Emmental and cheddar cheese alternately to fill the entire baking sheet to form a cheese crust. Bake for 4 minutes at 350°F.
Step 3/4
Make a slit on the side of the chicken breasts without cutting through. Fill them with a slice of emmental cheese and ham, then close them up. Cook them with a drizzle of olive oil in a frying pan.
Step 4/4
Cut the chicken breasts into 3 pieces, then place them on the emmental and cheddar crust. Cut the cheese crust lengthwise into 3 parts and then widthwise into 2 parts. Wrap the cheese crust around the chicken breasts to form a candy wrapper. Serve on a plate with 2 zucchinis on the edges of the plate, place 2 cheese candies in the center and enjoy!