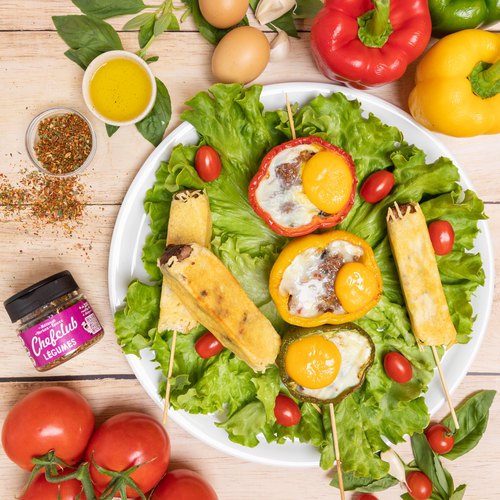 Stuffed Peppers & Cheese Sticks
Stuffed Peppers & Cheese Sticks! Fresh summer veggies invite themselves to the table ☀️🥗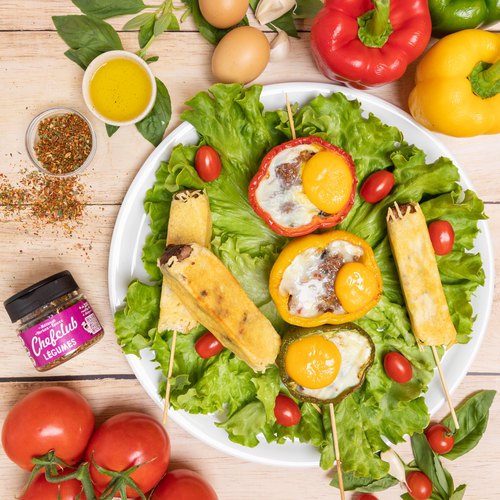 ---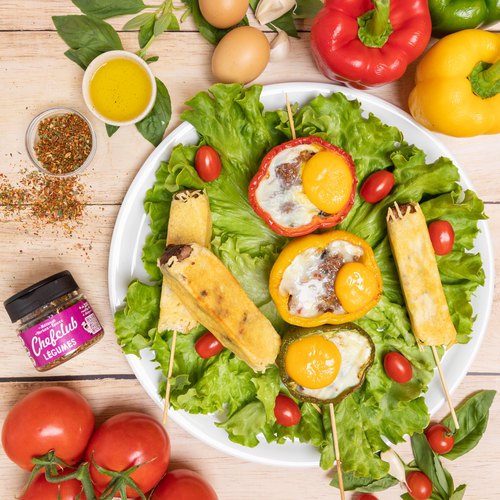 ---
Total time: 1 hour 30 minutes
Prep time: 55 minutes, Cook time: 35 minutes
Ingredients for 3 people
1 red bell pepper
1 green bell pepper
1 yellow bell pepper
1/2 eggplant
3 tbsp of chefclub vegetable seasoning
3 egg
3/4 lb of ground beef
3 tbsp of breadcrumbs
2 tbsp of olive oil
3 1/2 oz of mozzarella
2 slices of sandwich bread
Cherry tomatoes
Salad
Salt & pepper
---
Tools
Skewers
Cling wrap
---
Step 1/4
Skewer the peppers together from the side using a skewer. Cut off the tops of the peppers and hollow them out. Dice the caps of the peppers and cook them in a pan with a drizzle of olive oil, salt and pepper. Add the eggplant cut into pieces, mix and sprinkle with 3 tablespoons of Chefclub vegetable seasoning.
Step 2/4
Add the cooked vegetables to a bowl with the ground beef. Add the breadcrumbs. Mix everything then stuff the skewered peppers. Divide the stuffing into three and add to cling wrap. Flatten it and form a sausage. Chill the sausages.
Step 3/4
Pierce the peppers with an oven skewer. Bake for 15 minutes at 350°F. Add an egg to each pepper and bake for 5 minutes at 350°F. Unwrap the rolls of stuffing from cling film. Cook for a few minutes with a drizzle of olive oil in a pan. Layer two slices of bread, cut into 3 equal parts. Place the three rolls of stuffing, alternating stuffing and sandwich bread. Skewer everything with 3 skewers then cut each one. Melt grated cheese in the pan. Wrap the cheese around each skewer.
Step 4/4
Place some lettuce with a few cherry tomatoes on a plate. Add the stuffed pepper and a skewer. Serve and enjoy!