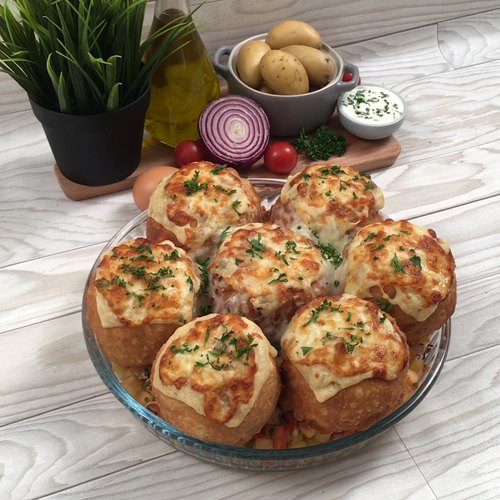 Gyro Balls
Rolling gyros! 🤩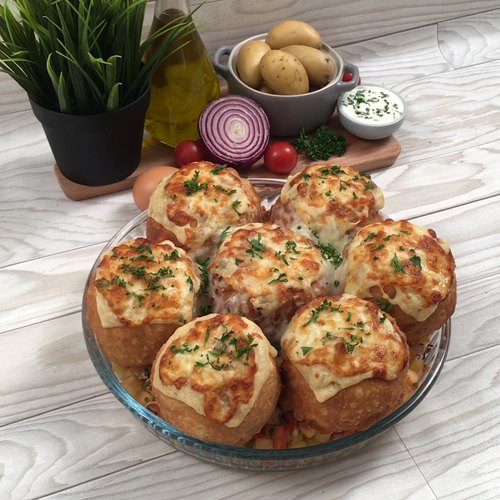 ---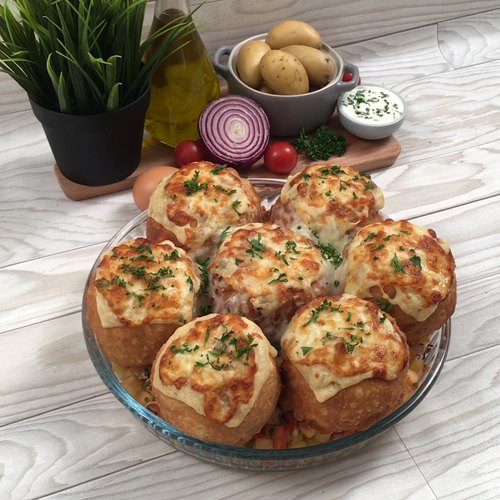 ---
Ingredients for 6 people
2 lbs of ground lamb
2 tsp of cumin
parsley, chopped
1/2 cup of grated cheddar
pizza dough
1 cup of creamed feta or greek yogurt
2 tomatoes, diced
1 red onion, diced
green onion, chopped
vegetable oil
2 cups of fried potatoes
1 package of sliced swiss cheese
salt and pepper, to taste
---
Tools
Small bowls
---
Step 1/3
Divide the ground lamb evenly in two bowls. In both bowls, add cumin, salt and pepper. In one bowl, add parsley, in the other add cheddar cheese. Mix each and form meatballs and cook to brown the meatballs on each side.
Step 2/3
Using 3 small bowls, cut circles from the pizza dough. Place each circle of dough inside of the bowls. In a larger bowl, combine chopped parsley and greek yogurt. Place a tablespoon of the yogurt mixture in the bottom of each bowl and place a meatball on top. Sprinkle each meatball with tomatoes, red onion and green onions. Gather the dough together on top of the filling and seal firmly. Repeat these steps with each meatball. Fry the balls in vegetable oil until they are golden brown.
Step 3/3
Place the fried potatoes in a baking dish and garnish with red onion, tomato and green onion. Place the fried meatballs on top and cover each one with a slice of swiss cheese. Bake for 10 minutes at 350° F, or until meat is cooked. Garnish with parsley. Enjoy!