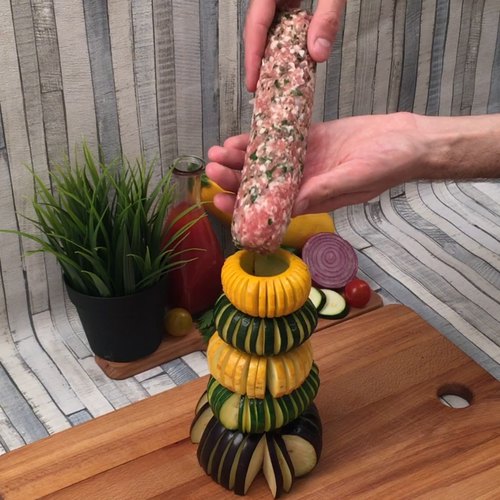 Stuffed Zucchini Rings with Lamb
Get ready to attack this delicious veggie stack!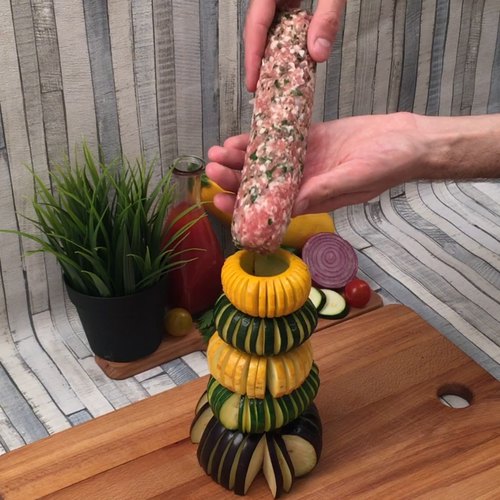 ---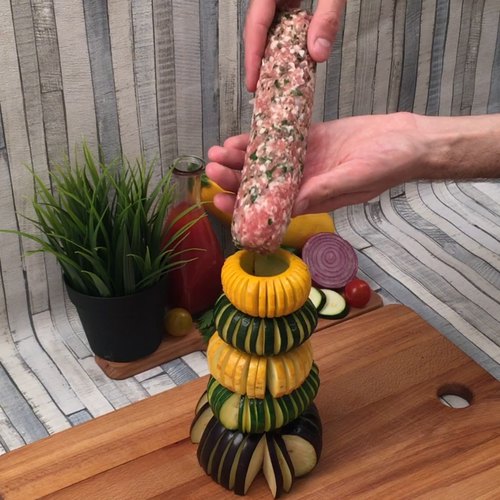 ---
Ingredients for 4 people
2 yellow summer squash
2 zucchinis
1 eggplant
1 lb of ground lamb
1 red onion
1 cup of grated mozzarella cheese
2 cups of tomato saue
1 cup of grated swiss cheese
olive oil
parsley
salt & pepper
---
Tools
Toothpicks
Plastic wrap
Rectangular baking dish
---
Step 1/4
Cut squash, zucchini and eggplant in half lengthwise and then cut each half skin-side up widthwise, not cutting through all the way. Place the zucchinis on a baking sheet covered with parchment paper and place in the oven for 5 minutes at 350 °F.
Step 2/4
Remove from the oven and form rounds with each zucchini half and hold them with toothpicks. Do the same with the eggplant halves. Stack these rounds in 2 different towers.
Step 3/4
Mix the ground lamb with the chopped onion, chopped parsley, salt and pepper and spread half of it in a large rectangle on cling film. Cover with half of the mozzarella, roll up into a tight sausage and repeat with the other half of the meat. Place the 2 sausages in the freezer for 1 hour.
Step 4/4
Remove from the freezer, unwrap the plastic, and push the sausages into the center of the vegetable rounds. Pour the tomato sauce into the rectangular dish, add a drizzle of olive oil and place the towers on their side. Sprinkle with grated Swiss cheese and place in the oven for 1 hour at 350 °F. Remove from the oven, sprinkle with chopped parsley and enjoy.