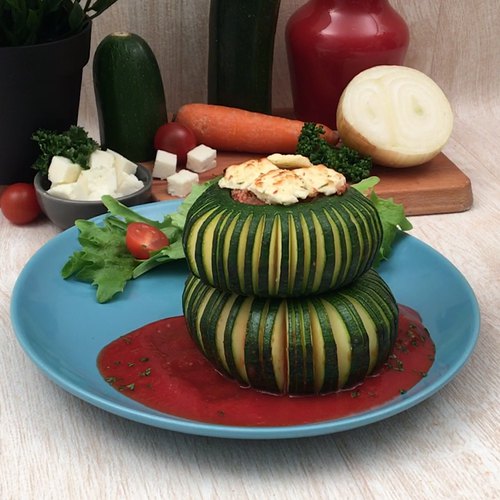 Meaty Zucchini Towers
These will bowl you over.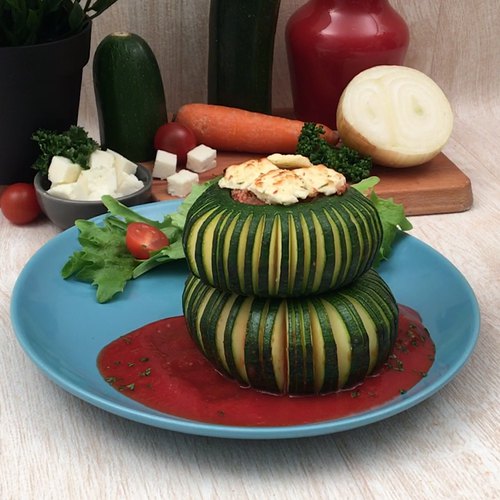 ---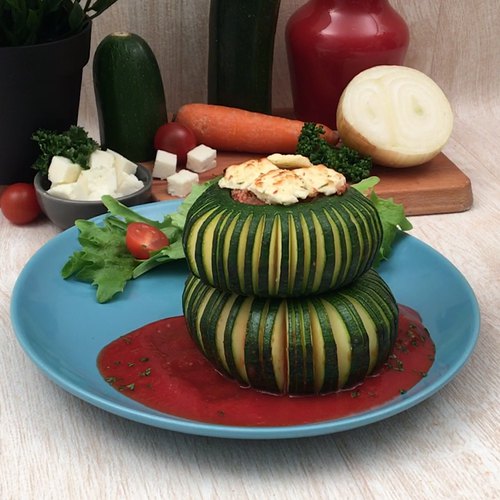 ---
Ingredients for 4 people
4 zucchinis
1 onion
2 carrots
3/4 cup of tomato sauce
1/2 lb of ground beef
---
Step 1/4
Cut the zucchini in half lengthwise and then slice them without cutting all the way through. Place the zucchini halves on a baking sheet lined with parchment paper and bake for 10 minutes at 350 °F.
Step 2/4
Brown the chopped onion with the finely diced carrots in a drizzle of olive oil and then add the ground beef when they have taken on color. Add half of the tomato sauce, sprinkle with chopped parsley, salt, pepper and let simmer.
Step 3/4
Form circles with the baked half-zucchinis and hold them together with a toothpick.
Step 4/4
Pour the remaining tomato sauce into a casserole dish and place 4 zucchini rings on top. Add half of the bolognese to the middle of the rings, add diced feta cheese, and place the other zucchini rings on top. Add the remaining bolognese in the second ring, place diced feta cheese on top, and bake for 10 minutes at 350 °F. Enjoy!
Similar recipes from Chefclub
-
Our other recipes