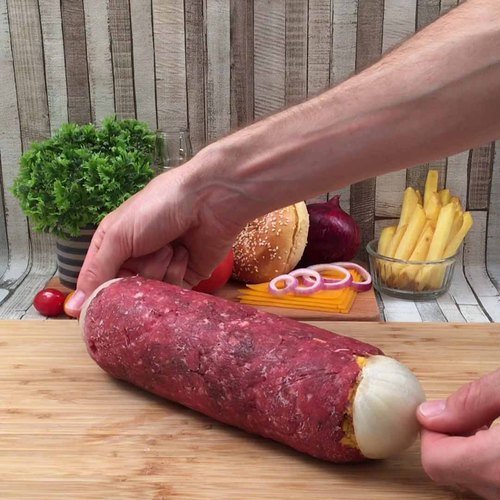 Summertime Meatloaf
Burgers for a crowd! 🍔💛😎🍔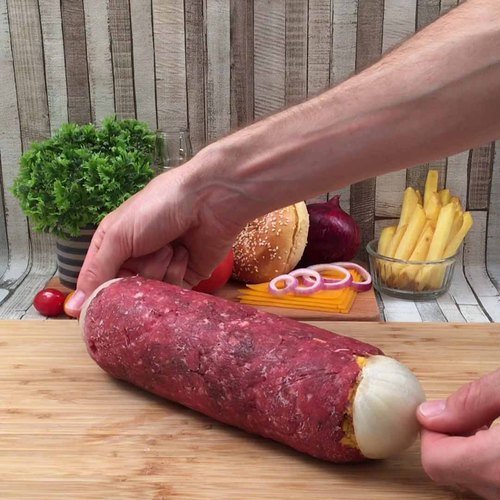 ---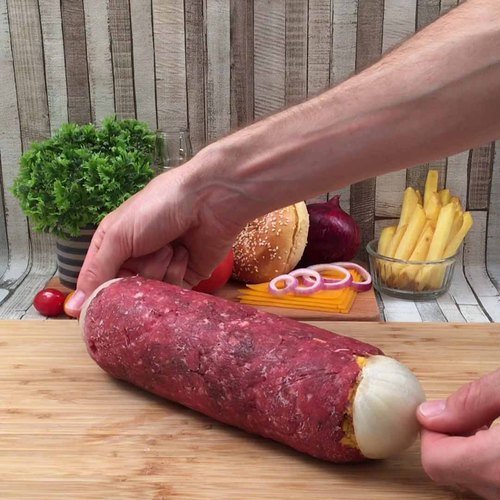 ---
Ingredients for 6 people
1 onion
1 lb of ground beef
salt, to taste
pepper, to taste
10 slices of bacon, grilled and chopped
2 cups of cheddar
burger bun and fixings
ranch dressing, for dipping
---
Tools
Glass
Rice
Skewer
---
Step 1/3
Fill a glass with rice then stick a skewer in the center, set aside. Cut an onion in half, removing the center and separating each layer.
Step 2/3
Season your ground beef and mix bacon with cheddar cheese. In small bowls, press the cheese bacon mix then place one onion layer on the skewer and place the compacted cheese inside. Place a ball of the ground beef on top of that, followed by another onion cheese and ground beef until the skewer is full. Place the final onion piece in the oposite direction to secure the loaf.
Step 3/3
On plastic wrap, spread out the remaining ground beef, then roll it around the onion skewer. Grill the burger loaf in or outside. Slice the loaf into rounds and place on top of a burger bun with all the fixings. Serve with ranch dressing.