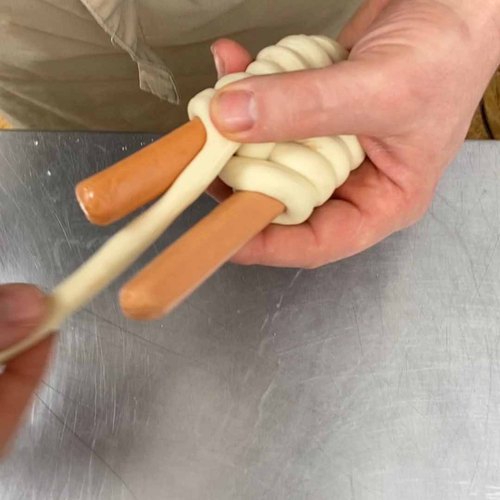 Hot Dog Braids
Baked with chili for an easy dinner casserole!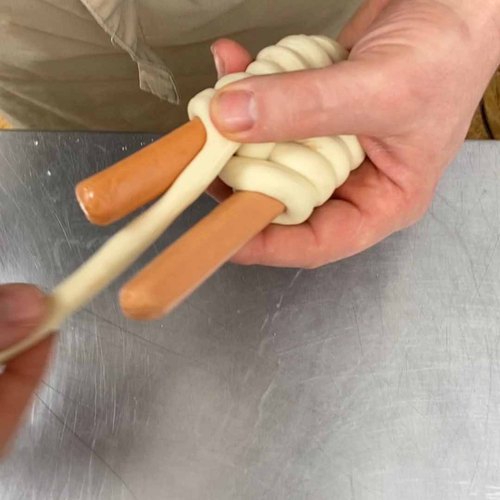 ---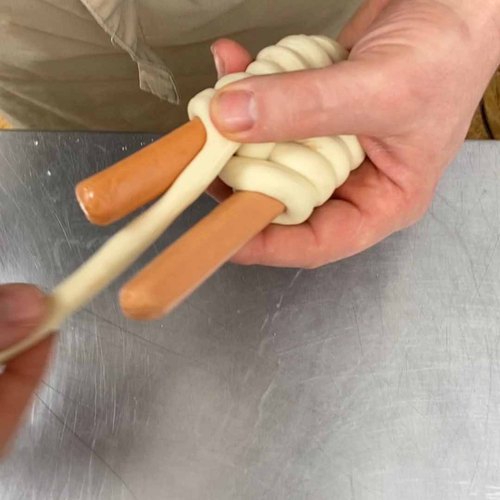 ---
Ingredients for 4 people
8 hot dogs
2 pizza doughs
shredded cheese
flour
1 tbsp of butter, softened
2 jalapeños
olive oil
1 onion
1 green bell pepper
1 lb of ground beef
3 garlic cloves
bouillon cube
1 tbsp of tomato paste
1 tsp of cumin
2 tsp of oregano
1 tsp of paprika
2 tsp of chili powder
2 tsp of salt
1 can of whole tomatoes
1 cup of kidney beans
2 cups of water
chives
---
Tools
Ziploc bag
Glass
---
Step 1/4
On a floured surface, roll out a pizza dough circle. Cut it in half and sprinkle a line of cheddar cheese. Roll it up, then continue to roll the dough to make it long and thin. Repeat with the remaining pizza dough. Wrap one pizza dough rope around two hot dogs creating a braid. Repeat with more pizza dough and hot dogs until there are four. Place on a lined baking sheet and bake for 20 minutes at 350 °F.
Step 2/4
Fill a Ziploc bag with softened butter and shredded cheddar cheese. Use hands to mix inside the bag. Seal the bag, move the butter to the corner, and cut the top half of the bag in half. Tie the two halves together. Cut off the stems and scoop out the seeds of two jalapeños. Use the Ziploc bag to pipe the butter into the jalapeños. Place them standing up in a glass and freeze.
Step 3/4
Heat olive oil in a medium pot. Cook the diced onions and chopped green bell pepper. Brown the ground beef. Add in the garlic cloves, bouillon cube, tomato paste, cumin, oregano, paprika, chili powder, and salt. Pour in whole tomatoes, kidney beans, and water. Add pepper. Bring to boil, then let simmer for 45 min.
Step 4/4
Pour the chili into a baking dish. Top with the hot dog braids. Slice the jalapeños and place the slices on the braids. Bake for 5 minutes at 350 °F. Garnish with chives and enjoy!