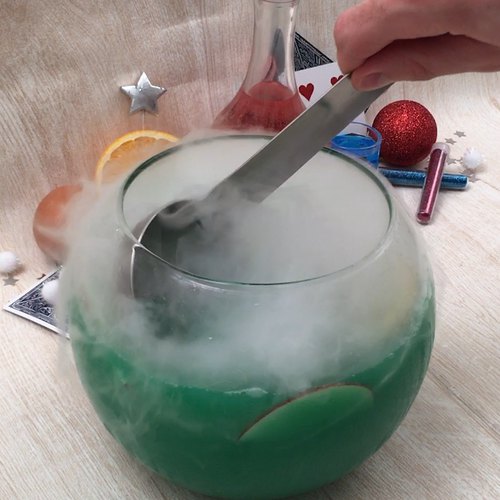 Kitchen Magic
Abra Kadabra 🧙‍♀️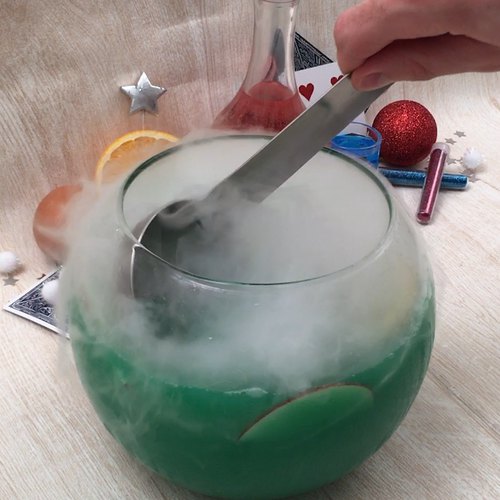 ---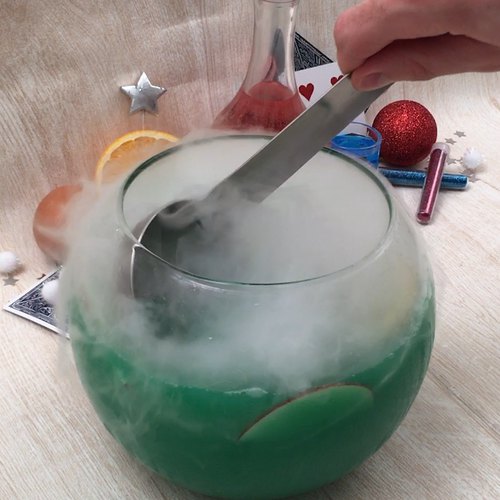 ---
Ingredients for 2 people
food coloring
eggs
white vinegar
ketchup
agar-agar
vegetable oil
banana
white rum
orange juice
curaçao
oranges
apples
dry ice
whiskey
cotton candy
tarts
beer
cheddar cheese
salt
---
Tools
Water bottle
Strainer
Fish bowl
---
Step 1/8
Brush the inside of a bottle cap with food coloring and put it back on the bottle. Shake the bottle and the water magically changes color.
Step 2/8
Place a whole egg in a glass and cover it with white vinegar. Wait 48 hours and it becomes translucent.
Step 3/8
Heat ketchup with agar-agar and water and put it back into an empty ketchup bottle with a pouring cap. Pour the ketchup drop by drop into a large glass of vegetable oil to form beads. Collect the beads with a strainer and rinse them them in water. Collect the beads again with a strainer and enjoy them on a steak.
Step 4/8
Write with the tip of a knife in the peel of a banana and wait 1 hour for the writing to appear.
Step 5/8
Place a bottle of water in the freezer for 4 hours, hit the bottom and ice will spread in the bottle.
Step 6/8
Pour white rum, orange juice, and curaçao into a fish bowl. Add orange and apple slices and dry ice. Run a damp cloth with a little dish soap over the opening of the bowl to remove the smoke. A large smoke bubble will be made.
Step 7/8
Flambé a small pan of whiskey and pour it over cotton candy that's hiding a tart. The cotton candy will melt to reveal the tart.
Step 8/8
Place a bottle of cold beer in a dish and pour melted cheddar cheese around it. Pour a teaspoon of salt into the beer. It will spread into the cheese. Dip sandwiches in the cheese sauce and enjoy!