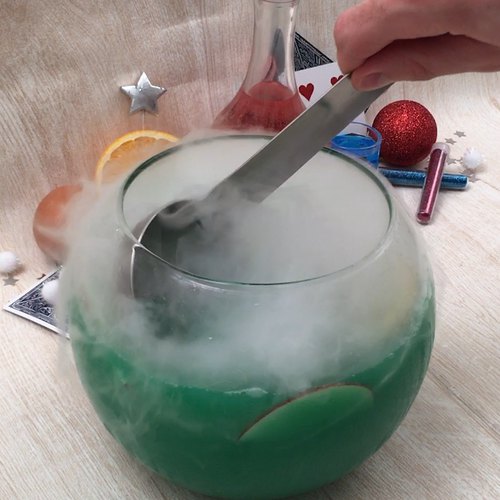 Recipe
Kitchen Magic
Abra Kadabra 🧙‍♀️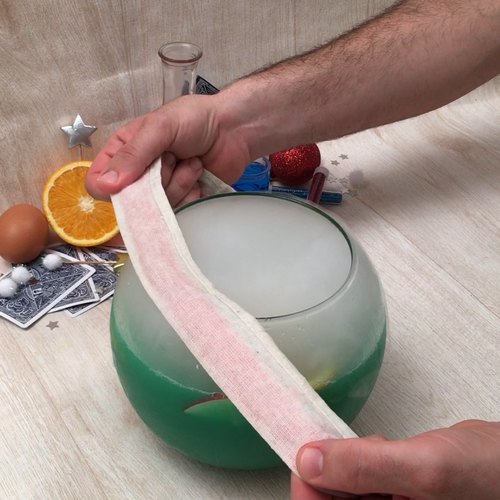 Brush the inside of a bottle cap with food coloring and put it back on the bottle. Shake the bottle and the water magically changes color.

Place a whole egg in a glass and cover it with white vinegar. Wait 48 hours and it becomes translucent.

Heat ketchup with agar-agar and water and put it back into an empty ketchup bottle with a pouring cap. Pour the ketchup drop by drop into a large glass of vegetable oil to form beads. Collect the beads with a strainer and rinse them them in water. Collect the beads again with a strainer and enjoy them on a steak.

Write with the tip of a knife in the peel of a banana and wait 1 hour for the writing to appear.

Place a bottle of water in the freezer for 4 hours, hit the bottom and ice will spread in the bottle.

Pour white rum, orange juice, and curaçao into a fish bowl. Add orange and apple slices and dry ice. Run a damp cloth with a little dish soap over the opening of the bowl to remove the smoke. A large smoke bubble will be made.

Flambé a small pan of whiskey and pour it over cotton candy that's hiding a tart. The cotton candy will melt to reveal the tart.

Place a bottle of cold beer in a dish and pour melted cheddar cheese around it. Pour a teaspoon of salt into the beer. It will spread into the cheese. Dip sandwiches in the cheese sauce and enjoy!
It's ready!
SIGN UP
FOR FREE
TO SEE THE RECIPE
Discover the Chefclub cookbooks
More Chefclub recipes
Find Chefclub's top recipes in our best-of collection boxed set. These books compile our most-liked recipes from the community with tons of photos, set-by-step instructions, and kitchen tips! With these books you'll be able to create easy and tasty original recipes for any moment.
DISCOVER THE BOOK