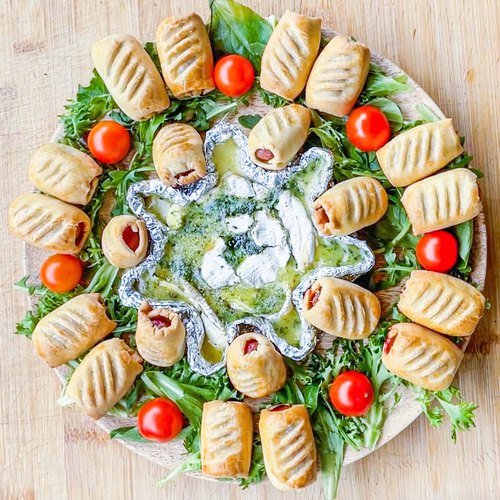 BBQ Pigs In A Basket
BBQ Pigs In A Basket! Served with a delicious grilled camembert wheel 😀🌭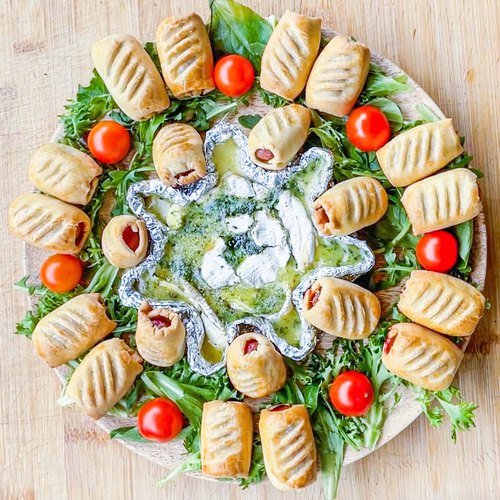 ---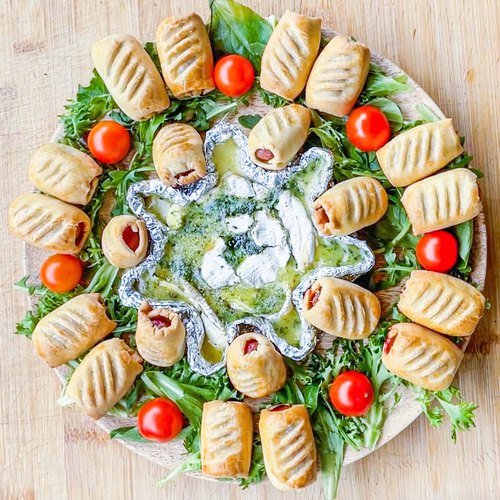 ---
Total time: 1 hour 5 minutes
Prep time: 30 minutes, Cook time: 35 minutes
Ingredients for 6 people
8 chipolata sausages
1 pizza dough
1 egg yolk
1 1/2 cups of parsley
3 1/2 tbsp of cream cheese
1 wheel camembert cheese
7 cherry tomatoes
Salad
---
Tools
Skewers
Aluminum foil
---
Step 1/3
Align the chipolatas sausages and flatten them using 2 chopsticks to split them into 3. Twist the separations and cut the chipolatas into 3 equal parts. Arrange the chipolatas in 4 rows of 5 on the pizza dough. Cut the pizza dough into 4 strips using the chipolatas as a guide. Fold the strips of pizza dough over the chipolatas and cut the strips of filled dough into 5. Place the chipolatas puffs on a baking sheet and brush them with egg yolk. Press the puffs with a fork and cook them for 20 minutes on the barbecue.
Step 2/3
Chop the parsley and add to the cream cheese. Mix until smooth. Cut a spiral out of the camembert and unroll the camembert. Spread the parsley and cream cheese mixture, then roll up the camembert. Form a sun-shaped mold in aluminum foil using the Camembert packaging as a template. Place the Camembert inside the aluminum mold and cook it for 15 minutes on the barbecue with the lid on.
Step 3/3
Arrange a circle of salad on a plate, place the cherry tomatoes and place the camembert in the center. Add the chipolatas and enjoy!