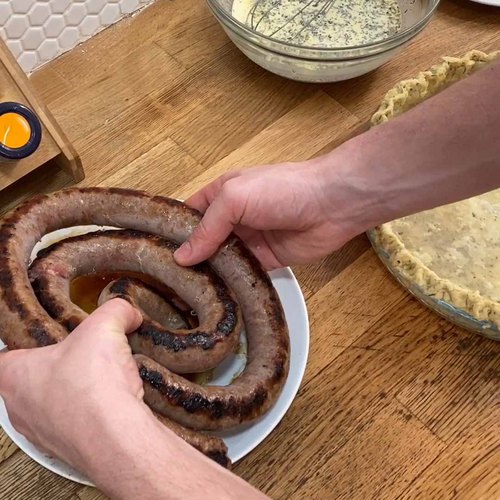 Vegetable & Sausage Swirl
A twist on the classic brunch combo!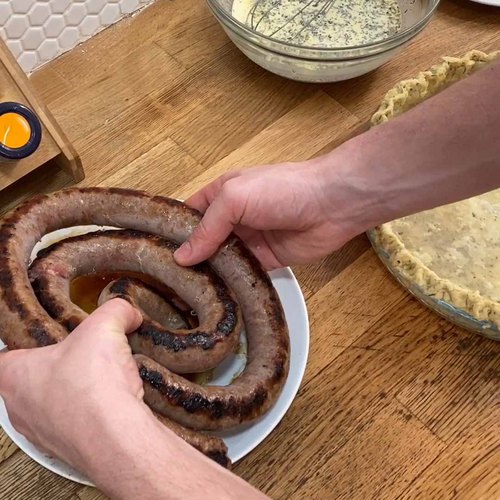 ---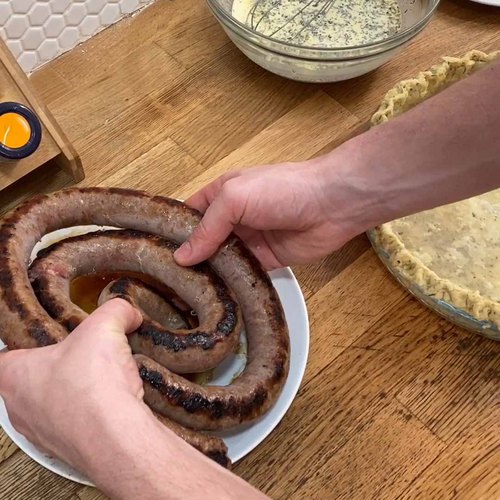 ---
Ingredients for 4 people
3 cups of flour
oregano
1 1/2 cups of butter
cooking spray
sausage
2 zucchinis
red bell pepper
2 potatoes
2 eggs
grilled onions
3 1/3 cups of heavy cream
cheddar cheese slices
parsley
---
Tools
Plastic wrap
Pie plate
Parchment paper
Pie weights
---
Step 1/3
Mix the flour and 1 tbsp of oregano, then crumble in the butter forming pie crust dough. Wrap in plastic then chill for 2 hours. Roll out on a floured surface then place in a greased pie plate. Cut off any excess dough. Use two fingers and a thumb to make the crust neat. Line the dough with parchment paper then cover with the pie weights. Bake for 25 minutes at 350 °F.
Step 2/3
Sear the sausage. Slice the zucchini lengthwise. Cut the pepper into diamonds. Slice the potatoes. Mix the eggs with 1 tbsp of oregano, grilled onions, and the heavy cream.
Step 3/3
Place the sausage in the cooked pie crust. Line the sausage with the zucchini, cheese, and potatoes. Slice the sausage down the center and place the pepper diamonds. Cover the entire thing with the egg mixture. Bake for 40 minutes at 350 °F. Garnish with parsley and enjoy!