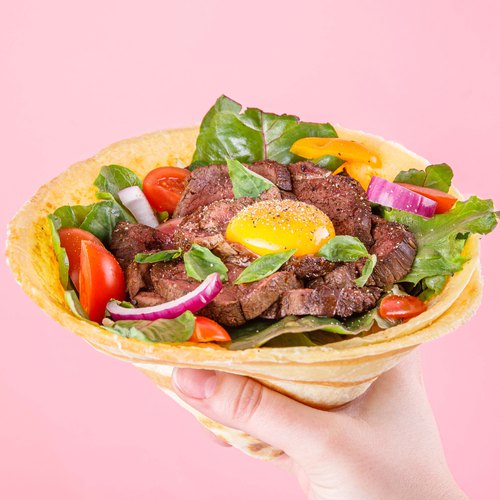 Floral Crepe Cone
Floral Crepe Cone! A bouquet of beef flowers to celebrate Spring 💐🥩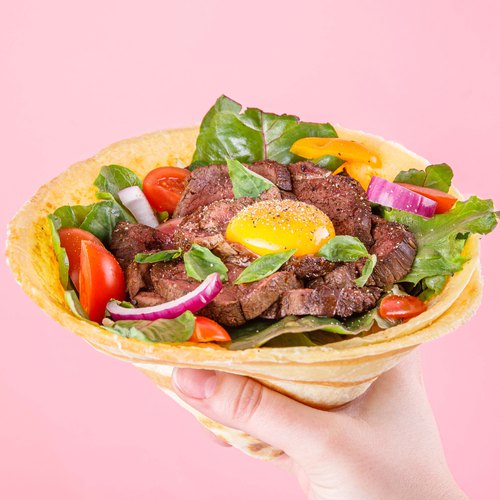 ---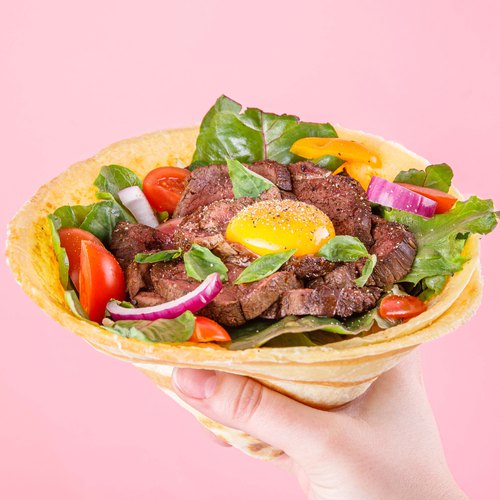 ---
Total time: 55 minutes
Prep time: 35 minutes, Cook time: 20 minutes
Ingredients for 3 people
1.2 cups of flour
4/5 cup of milk
2 pinches of salt
0.4 cup of tomato paste
2 oz of parmesan
10 cherry tomatoes
1 red onion
Salad
1 beef fillet
2 tbsp of chefclub ground beef spice mix
4 tbsp of melted butter
---
Step 1/3
Mix the flour, milk and salt. Allow to rest for half an hour. Separate the batter in 2. Add the tomato paste in a batter and leave the other plain.
Step 2/3
Pour the tomato batter in a spiral in a hot pan, add the plain pancake batter in the spaces of the spiral, grate some parmesan and let the crepe cook. Repeat the process to have 3, make an incision from the end to the center of the crepes to form a cone and place them each in a glass. Cut the cherry tomatoes and the red onion into pieces. Garnish the crepes with the cherry tomatoes, red onion and salad.
Step 3/3
Sprinkle the beef with Chefclub ground beef spices, butter the grill and cook the beef. Cut the beef into slices, place the beef slices in a ramekin forming a flower, place an egg yolk in the center then season with pepper. Repeat the process twice and bake them for 5 minutes at 350°F. Place the beef flowers in the center of the crepe cones and enjoy!