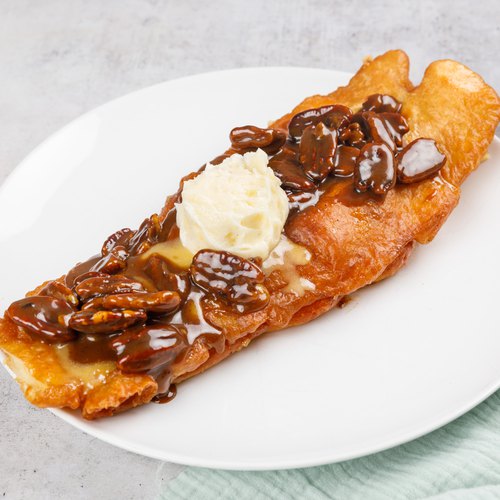 Boozy Pecan Pie Boat
A sweet sensation that will rock your boat 🤩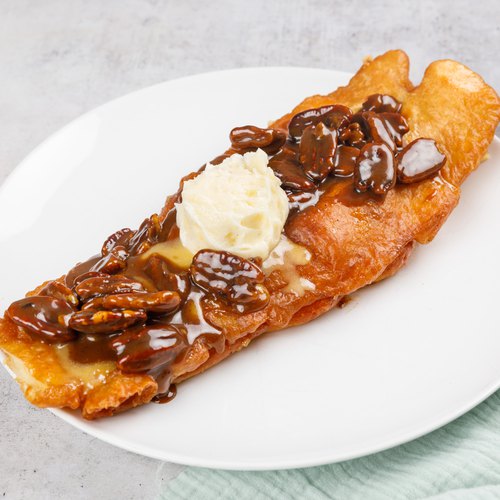 ---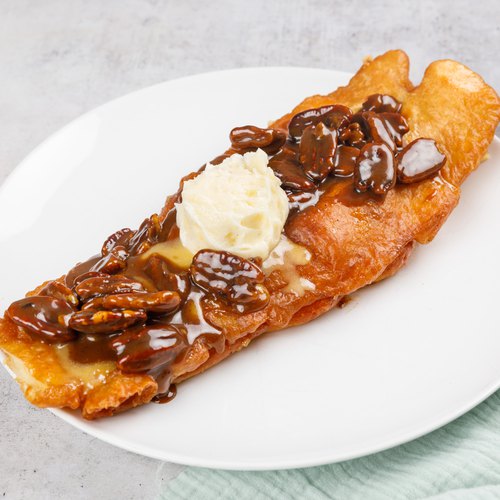 ---
Total time: 40 minutes
Prep time: 5 minutes, Cook time: 5 minutes, Rest time: 30 minutes
Ingredients for 4 people
cup 1½ milk
2 tbsp of sugar
2 tsp of yeast
2 cups of flour
2 tsp of baking powder
6 eggs
1 tbsp of oil
2 cups of pecans
1 cup of brown sugar
tsp 1/2 cinnamon
tsp 1/4 nutmeg
2 tbsp of whiskey
2 tbsp of water
cup 1/2 butter
1 cup of sugar
2 tsp of vanilla
cup 1/2 corn syrup
cup chocolate syrup
---
Step 1/4
Make pancake batter by combining warm milk, sugar and yeast. Let this rest for 10 minutes. In a large mixing bowl, add flour and baking powder. Whisk in 4 eggs followed by the milk mixture. Reserve 2 remaining eggs. Let this mixture rest for an additional 20 minutes. During this time, heat the oil in a sauce pan to 350 degrees F.
Step 2/4
Make the filling batter with melted butter, sugar, vanilla extract, and the corn syrup. Set aside in a pouring receptacle.
Step 3/4
Take small sauce pan and place on medium heat. Add in the pecans along with the brown sugar. Use a spatula to stir. Add the cinnamon, nutmeg, whiskey and water. As it boils, continue to cook for 2 minutes. Take pan and spread evenly across parchment paper. Allow to cool at room temperature.
Step 4/4
Take the pancake batter and pour into a loaf pan. Pour batter into hot oil with the help of a spoon to create elongated boat shape. Allow the dough to fry on first side and then turn it over. Make a slit in the center of the dough with a knife. Let the fried dough cook on the first side and then turn over. Make a slit in the center of the dough with the help of a knife. Use chopsticks in the center of the dough to create an opening and pour in a whole egg. Use chopsticks to spread egg in the opening. Once the egg has cooked, pour in the filling batter, followed by the pecans. Remove pancake from oil and place on plate. Drizzle with chocolate syrup and serve with Vanilla Chefclub Ice Cream. Enjoy!