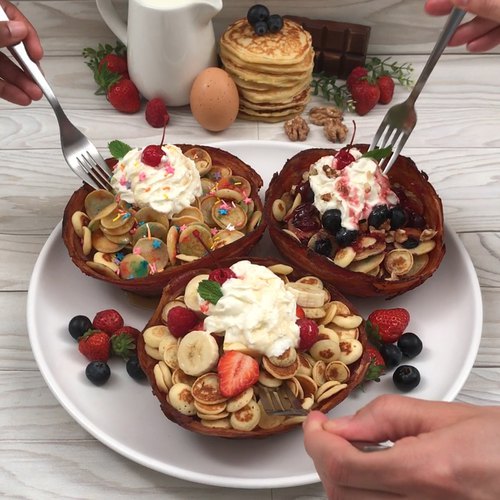 Pancake Cereal Bowls
Pancake Cereal Bowls! You're BACON me go crazy! 🤪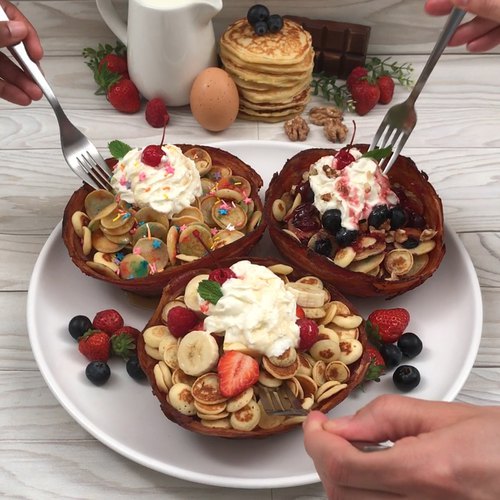 ---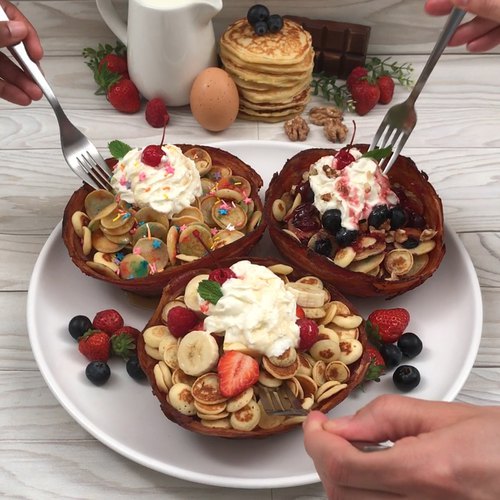 ---
Ingredients for 4 people
bacon
2 oven-safe glass bowls
1 cup of flour
2 tsp of sugar
1 tsp of baking powder
2 tsp of salt
1 egg
3/4 cup of milk
1 tsp of vanilla extract
3 tbsp of butter, melted
sprinkles
blueberries
strawberries, for garnish
bananas, for garnish
sprinkles, additional for garnish
butter, for garnish
maple syrup, for garnish
---
Tools
Plastic bottle
Tea light
Skewer
---
Step 1/3
Place bacon slices over bowl, place second bowl on top of bacon and bake for 20 minutes at 320 °F. Repeat 3 times.
Step 2/3
In a bowl, mix flour, sugar, salt, and baking powder together in a bowl. Add egg, milk and butter and mix until just combined. Pour batter into empty water bottom and heat the lid over a tea light, use a skewer to poke a hole in the top and then use the water bottle to dispense the batter into a greased skillet. Cook until bubbles, then add sprinkles or blueberries if desired. Flip and quickly cook.
Step 3/3
Pour pancakes into bacon bowls, add strawberries, bananas, more sprinkles, walnuts, butter and maple syrup as desired. Enjoy!