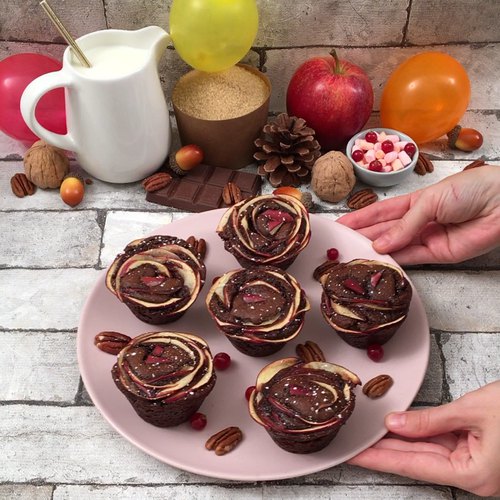 Recipe
Fall Desserts
For basic betches. 🍁🧡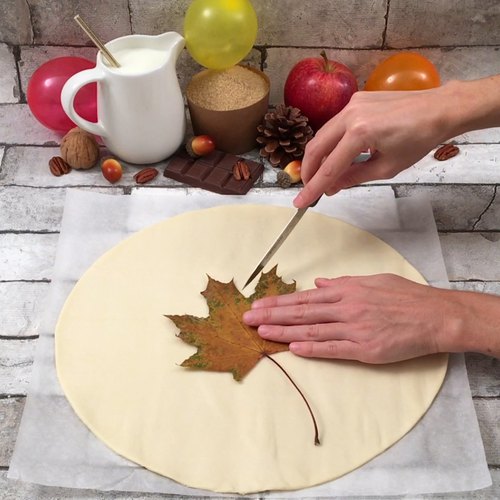 Place a leaf on a puff pastry and cut out all around it and repeat as many times as possible to obtain dough leaves. Spread applesauce on one of the leaves, sprinkle with cinnamon and then enclose with another dough leaf. Seal the edges well with the tines of a fork. Place the filled sheets on a baking sheet lined with parchment paper, form stems with the remaining dough and brush with egg yolk. Form the leaf lines on the puff pastry sheets and bake for 15 minutes at 350 °F.

Place autumn leaves on a chocolate cake and sprinkle with icing sugar. Remove the leaves and sprinkles crushed walnuts overtop.

Cut as many discs as possible with a glass in a puff pastry. Add applesauce on 1 third of the discs, chestnut cream on another third, and blueberry jam on the last third. Fold all the discs in half and arrange them in 3s, overlapping to form rings. Place the fritters on a baking tray lined with parchment paper, seal the edges well with the tines of a fork, brush with egg yolk and bake for 15 minutes at 350 °F.

Add crumbled biscoff cookies and cinnamon to apple balls and place them in glass yogurt cups. Top the jars with a disc of puff pastry and secure with twine. Prick the dough with the tip of a knife, add dough leaves. Brush the dough lids with egg yolk and bake for 15 minutes at 350 °F.

Fill a muffin tin with chocolate cake batter. Cut an apple in half and then cut into thin slices. Place the apple slices in the batter to form a flower. Bake for 13 minutes at 350 °F.

Fold crepe in half and place half a leaf on the fold. Cut the crepe around the leaf to obtain a crepe leaf. Repeat 5 times, place the crepes on a baking sheet lined with parchment paper and bake for 10 minutes at 350 °F. Add dollops of whipped cream and chestnut cream on a crepe cake and arrange your crepe leaves ontop. Add gooseberries and grapes to the center and dust with icing sugar.

Add orange food coloring to melted white chocolate. Cut the bottom half off of an empty pudding cup and pour orange chocolate into it to cover the sides and freeze. Remove the chocolate cups from the freezer and fill them with chocolate mousse. Turn the cups over and add a little melted chocolate to the bottom. Decorate with a sugar pearl and enjoy!
It's ready!
SIGN UP
FOR FREE
TO SEE THE RECIPE
Discover the Chefclub cookbooks
More Chefclub recipes
Find Chefclub's top recipes in our best-of collection boxed set. These books compile our most-liked recipes from the community with tons of photos, set-by-step instructions, and kitchen tips! With these books you'll be able to create easy and tasty original recipes for any moment.
DISCOVER THE BOOK