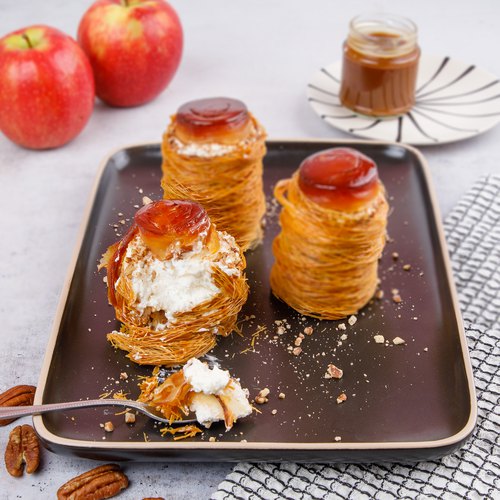 Apple Pie Caramel Nest
Caramel Nest Apple Pie! Crunchy and smooth all in one delicious bite 😘🥧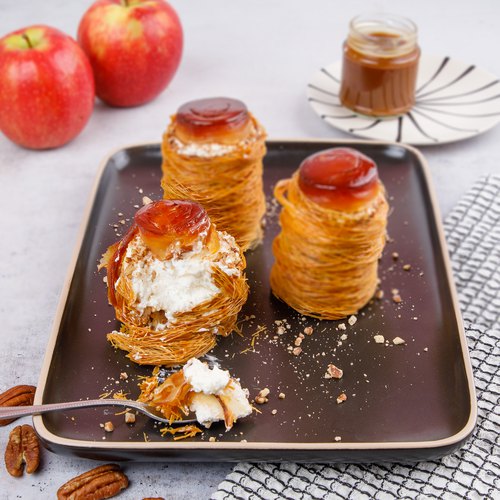 ---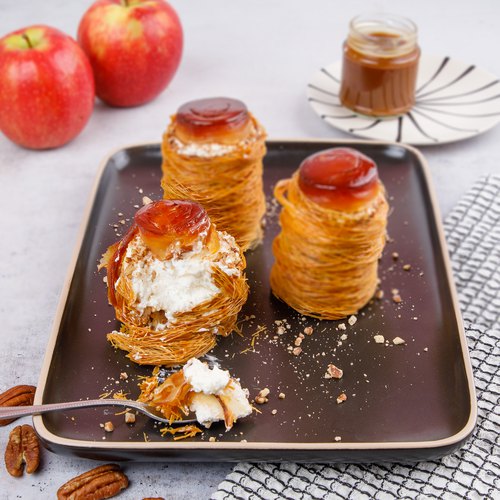 ---
Total time: 2 hours
Prep time: 1 hour 15 minutes, Cook time: 45 minutes
Ingredients for 3 people
1 bag of werther's caramels
2 apples
1 cup of hard caramels
3 tbsp of butter
1 cup of whipped cream
1 pie crust
Pecans
---
Tools
Drill
Electric mixer
parchment paper
Scotch tape
Paper towel tube
Scissors
Mini muffin tray
Mandoline (or vegetable peeler)
Whisk
Shot glass
---
Step 1/5
In a small saucepan over low heat, melt down the caramel hard candies. While these are melting prepare the drill. Replace the drill bit with the beater from a hand mixer, tighten to secure the beater. Cover a cardboard tube with parchment paper, using tape to hold it in place. Slide the tube onto the beater.
Step 2/5
Use a whisk with the ends cut off. Place in the caramel while keeping on low heat, pull over the tube with the drill turning slowly and allow the caramel to wrap around the tube. Continue until the tube is covered in an even thick layer of caramel. It will look somewhat like a nest. Take off the tape on the ends of the parchment paper and slide the paper with the caramel off of the tube. Place to the side for the final plating.
Step 3/5
Caramelize the sugar then pour it onto a silicone baking mat or parchment paper, once cooled smash it into pieces. Place caramel bits into 6 of the mini muffins. In the other 3 mini muffins place a round piece of pie dough, press into place with a shot glass.
Step 4/5
Using the sheeter attachment for the stand mixer, without peeling the apples, slice into thin sheets. If you do not have the stand mixer accessory, you may use a mandoline. With a mandoline slice the apples very thinly then layer the ends and roll them up. With the sheeter, roll the thin sheets of apple to the diameter of the mini muffin molds and cut in half, placing the flat side down on top of the caramel pieces. Bake the apples and pie crusts for 20 minutes at 350°F. Remove the pie crusts then continue baking 20-25 minutes until the apples are cooked through. Allow to cool down before removing.
Step 5/5
Using scissors, delicately cut the caramel tube into 3 even pieces. Place a pie crust in the bottom of each one and begin to fill them first with whipped cream, toasted pecans then a caramelized apple. Continue the process, finishing with the caramelized apple on top. Add some toasted pecans for decoration. Enjoy!