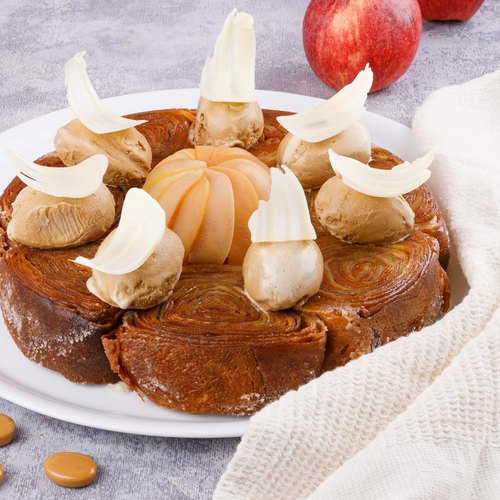 Apple & Crepe Tart
Apple & Crepe Tart! Roll into this luxurious recipe 😊🍎👑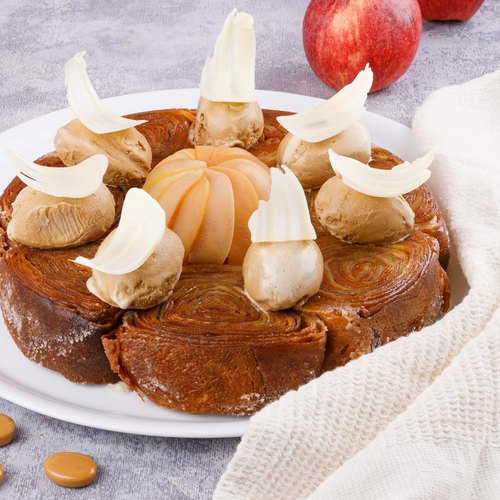 ---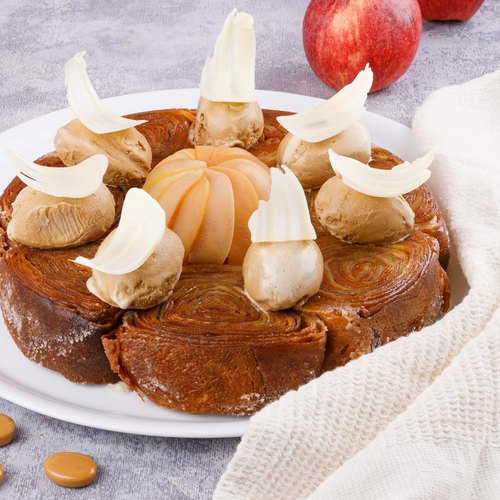 ---
Total time: 2 hours 15 minutes
Prep time: 45 minutes, Cook time: 30 minutes, Rest time: 1 hour
Ingredients for 6 people
6 apples
3/5 cup of butter
3/5 cup of powdered sugar
2 tbsp of walnuts
10 werther's original hard caramels
1 box of chefclub caramel ice cream
1 cup of white chocolate
26 crepes
---
Tools
Cling wrap
Plastic sheet protector
---
Step 1/4
Find the crepe recipe on chefclub.tv website. Overlap the ends of the crepes 4 by 4. Melt ¼ cup of butter. Brush the butter on each layered crepe and add the sugar. Cut 3 apples into slices. Heat 0.4 cup of water with 4 tablespoons of sugar to obtain a syrup. Cook the apples in a pan with the syrup, drain and let cool. Cut the rest of the apples into pieces.
Step 2/4
Place half of the apple slices on the superimposed crepes. Roll the crepes on themselves to form a large crepe roll. Cut the crepe roll into 7 parts. Butter a mold, sprinkle it with sugar and arrange the parts of the crepe roll vertically in the mold (leave a space in the centre). Place the apple pieces, walnuts and caramel candies in a ramekin. Cut the remaining butter into squares and place a square of butter and sugar on each crepe roll. Bake for 30 minutes at 390°F.
Step 3/4
Line a dish with cling film, place the remaining apple slices to form an apple dome and pace the Chefclub caramel ice cream. Refrigerate for 30 minutes. Melt the white chocolate. Cut a sheet protector in two and spread 3 dashes of melted white chocolate on each portion. Place the sheet protectos in a large glass so that they form a rounded shape. Refrigerate for 30 minutes.
Step 4/4
Unmold the crepe cake on a plate. Remove the ramekin and place the apple dome in its place. Place scoops of Chefclub caramel ice cream on the cake. Place the white chocolate decorations on the scoops of ice cream and enjoy!