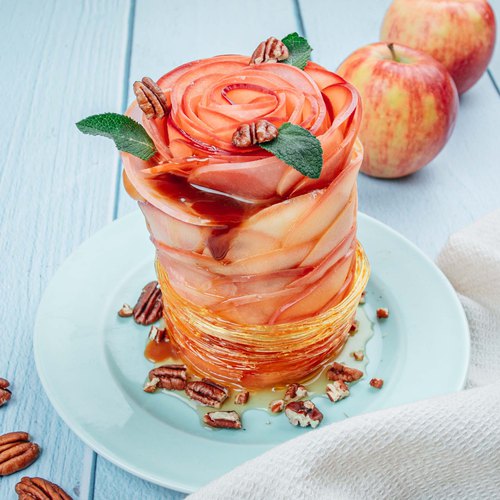 Apple & Ice Cream Roses
Apple & Ice Cream Roses! Both beautiful and delicious 🥧🍎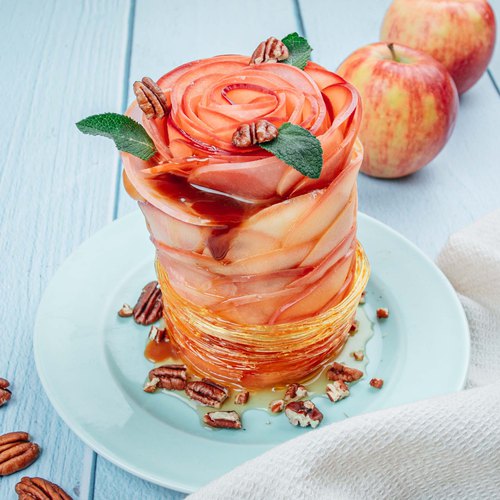 ---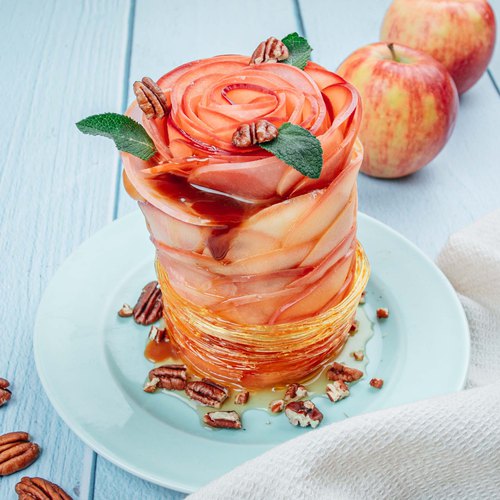 ---
Total time: 44 minutes
Prep time: 40 minutes, Cook time: 4 minutes
Ingredients for 3 people
1 pint of vanilla ice cream
1/2 cup of sugar
2 apples
1 tbsp of lemon juice
1 oz of pecans
3 mint
---
Tools
parchment paper
Rolling pin or metal rod
---
Step 1/3
Empty the pint of vanilla ice cream, cut the ice cream into strips. Melt the sugar in a saucepan until you get caramel, wrap the empty pint of ice cream in parchment paper, wrap a filament of caramel around the base of the pint of ice cream and allow to set. Cut the red apples into strips, place them in a bowl with 3 tbsp of water, a drizzle of lemon juice and heat it in the microwave for 4 minutes.
Step 2/3
Lay out some of the apple slices in a row, roll them up on themselves to form an apple blossom. Unmold the pint of ice cream from the parchment paper. Spread the other apple slices on a sheet of parchment paper, roll the apple slices around a rolling pin and place it vertically inside the pint of ice cream. Remove the roll and garnish the center of the roll with apples, alternating between vanilla ice cream, remaining cooked apples and pecans, then finish with the ice cream.
Step 3/3
Flip the pint on a plate, unmold the apple and ice cream roll, remove the parchment paper, place the caramel decoration and turn the roll over. Pour the rest of the caramel, place the apple blossom, arrange the mint leaves and the pecans. Serve and enjoy!