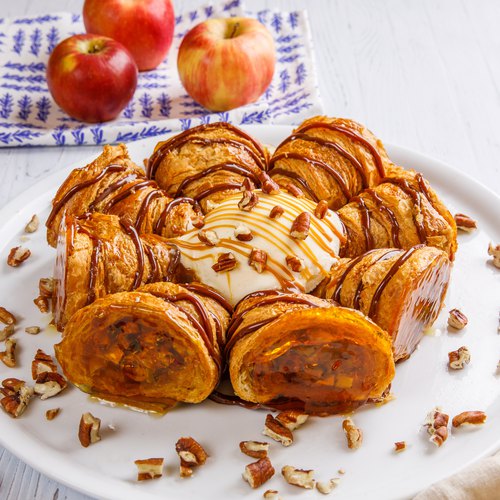 Croissants & Caramelized Apples
Croissants & Caramelized Apples! The perfect match for the king of pastries 🥐🍬🍎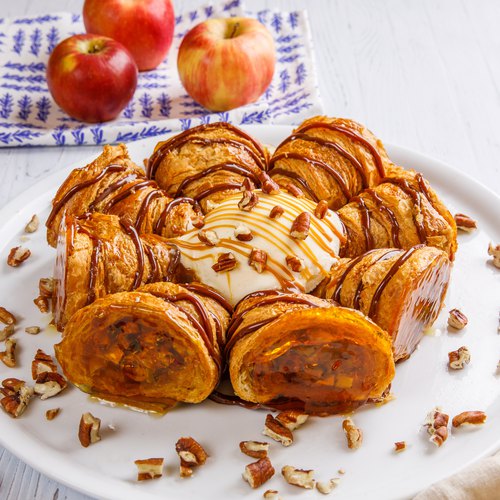 ---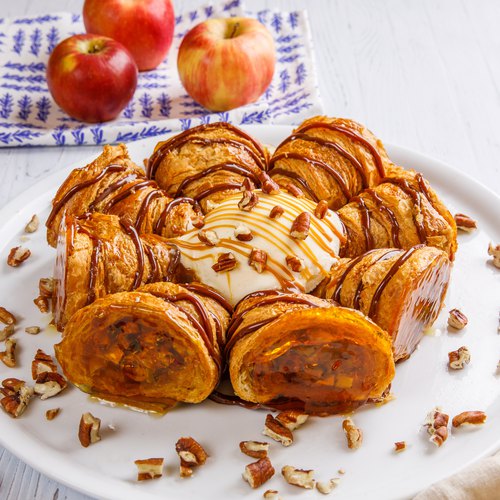 ---
Total time: 40 minutes
Prep time: 30 minutes, Cook time: 10 minutes
Ingredients for 5 people
8 caramel candies
4 croissants
1 cup of sugar
2 apples
5.3 oz of pecans
1 pint of chefclub caramel ice cream
4 tbsp of caramel sauce
1/4 cup of water
---
Tools
parchment paper
---
Step 1/3
Soften the caramel candies obtain 8 threads, place them separately on a sheet of parchment paper. Cut the apples into pieces, add the pecans, pour the caramel sauce on top then bake for 10 minutes at 350°F to caramelize the apples and pecans. Set aside.
Step 2/3
Cut the croissants in 2, hollow out the interior, heat ¼ of water and the sugar to make caramel. Place a tablespoon of caramelized apples and peacans inside the croissants. Make 8 scoops of caramel with the homemade caramel, place the half-croissants upside down on the heaps of caramel then allow to cool.
Step 3/3
Slide the end of the caramel thread under a croissant, wrap the caramel thread all around the croissant then repeat the process with all the croissants. Arrange the croissants in a circle with the point of the croissants inwards, place a scoop of ice cream in the centre and sprinkle the ice cream with the caramel sauce. Add pecans and enjoy!