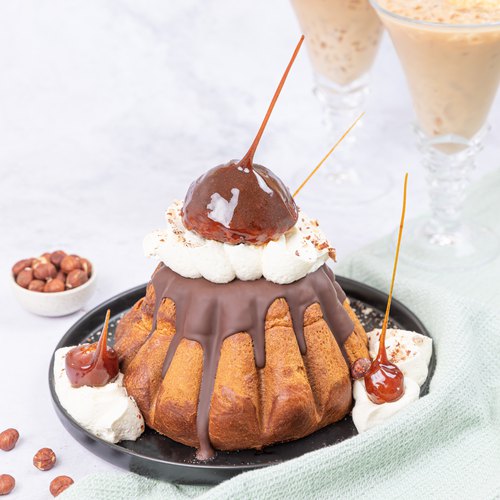 Chocolate Brioche & Whiskey Affogato
Chocolate Brioche & Whiskey Affogato! A combo that will brew-ten your day ☕🥃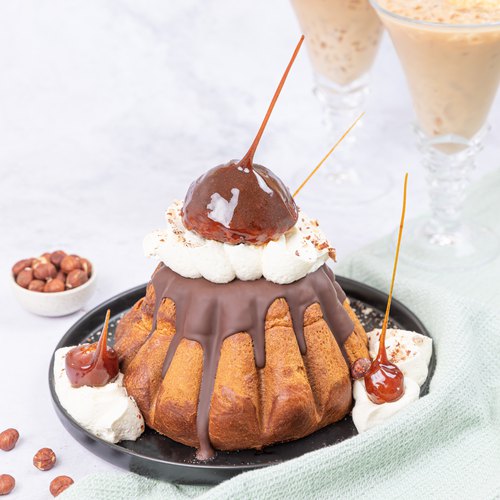 ---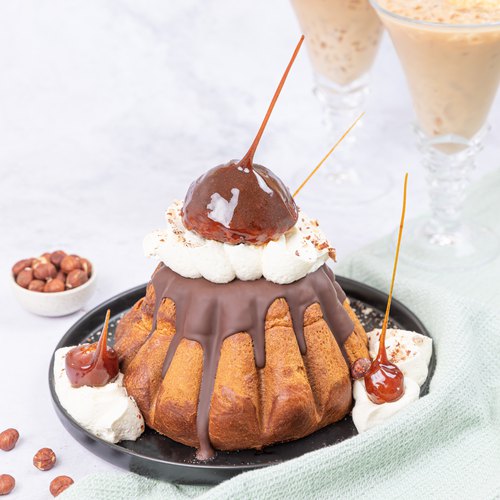 ---
Total time: 20 minutes
Prep time: 20 minutes
Ingredients for 3 people
1 brioche
4/5 cup of whipped cream
0.4 cup of chocolate hazelnut spread
5 hazelnuts
3 1/2 oz of milk chocolate
1 1/2 oz of sugar
3 scoops of vanilla ice cream
4/5 cup of milk
4/5 cup of coffee
1 tbsp of whiskey
Cacao powder
---
Tools
Piping bag
Skewers
---
Step 1/3
Cut the top of the brioche to form a large ball, then hollow out the inside of the brioche and form small balls. Pour the whipped cream into a piping bag, pour the chocolate hazelnut spread into another, then pipe the inside of the brioche with the two preparations. Add crushed hazelnuts, cover with whipped cream and spread. Spread the crushed hazelnuts and turn the cake over. Melt the milk chocolate and pour it over the top of the cake, letting it drip down the edges. Set aside.
Step 2/3
Melt the sugar in a pan at 280°F to obtain caramel. Place the brioche balls onto a skewer, then dip them in the caramel. Lift everything and let the caramel flow until a spike of caramel forms and sets on each ball. Arrange the cake on a plate, pipe the whipped cream on top and on the sides, place the caramel brioche balls on the whipped cream and sprinkle with crushed hazelnuts.
Step 3/3
Fill the glasses with crushed ice and place a scoop of ice cream in each glass. Pour the coffee, milk and a few drops of whiskey. Place a ball of caramel brioche on each cocktail, sprinkle with cacao powder and enjoy!