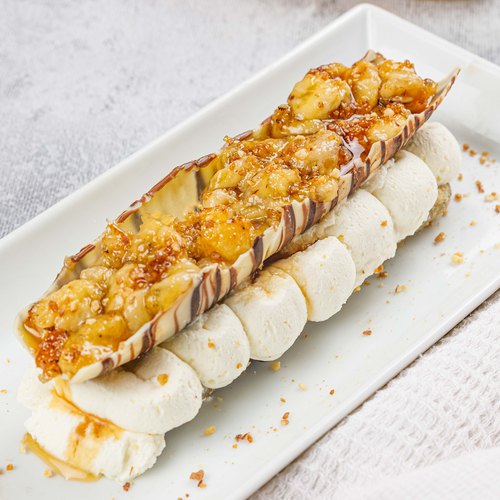 Bananas For You Eclair
Bananas For You Eclair! Time to declaire your love for this chocolaty recipe 😘🍫🍌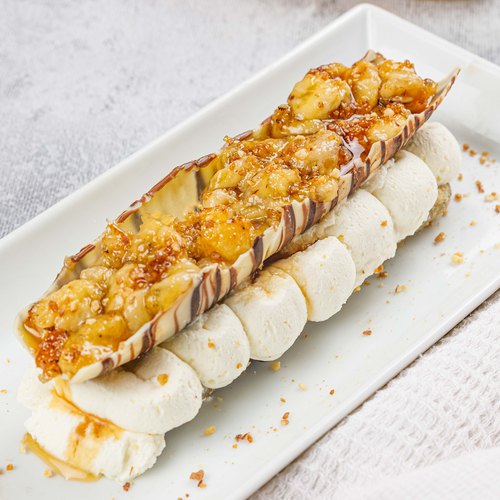 ---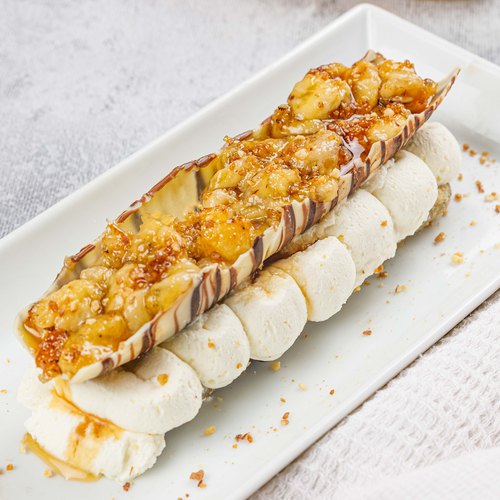 ---
Total time: 1 hour 30 minutes
Prep time: 40 minutes, Cook time: 20 minutes, Rest time: 30 minutes
Ingredients for 3 people
3 bananas
4 tbsp of brown sugar
2 tbsp of rum
3 1/2 oz of white chocolate
3 1/2 oz of dark chocolate
3 1/2 oz of milk chocolate
1 1/2 cups of flour
2 egg
3/5 cup of heavy cream
3 1/2 oz of mascarpone
2 tsp of powdered sugar
6 tbsp of hazelnuts
Oil
---
Tools
Ziplock bag
---
Step 1/4
Cut the skin of a banana in half lengthwise, place it on a grid and press to obtain cubes. Set the skin aside. Cook the bananas with the sugar and the butter in a frying pan, add the rum and flambé everything.
Step 2/4
Melt the white chocolate, milk chocolate and dark chocolate. Cover the banana peel with white chocolate, then milk chocolate and dark chocolate in stripes and refrigerate for 30 minutes. Fill ziplock bags with each of the chocolates and set aside.
Step 3/4
Mix the flour, 0.4 cup of water and the eggs to obtain a dough. Dip a spatula and plunge it into the hot oil. Cook for 5 minutes before placing it on a plate. Repeat the process three times. Take the ziplock bags of chocolate, cut one of the corners and fill the éclairs with chocolate.
Step 4/4
Whip the heavy cream, the mascarpone and the powdered sugar, place it in a piping bag and add to the donuts. Unmold the marbled chocolate shell from the banana peel and turn it over. Place it on the whipped cream. Fill the chocolate shell with the flambéed banana cubes and sprinkle with crushed hazelnuts. Repeat the process for all the éclairs. Serve and enjoy!