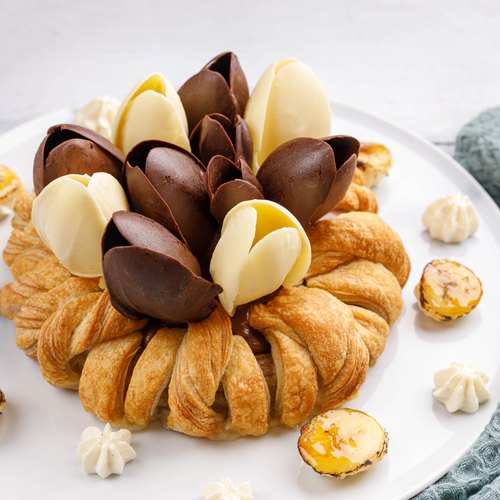 Chocolate Tulip Cake
Chocolate Tulip Cake! So pretty, so sweet! 🌷🌷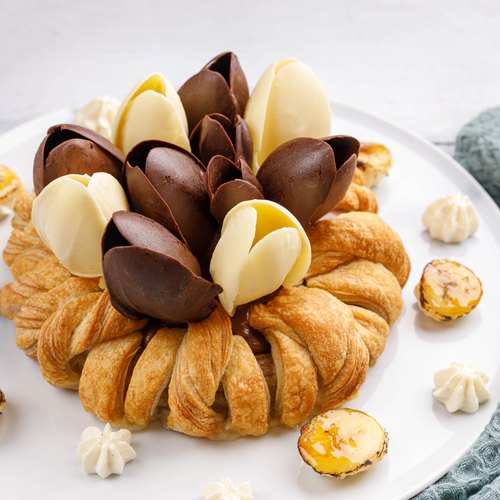 ---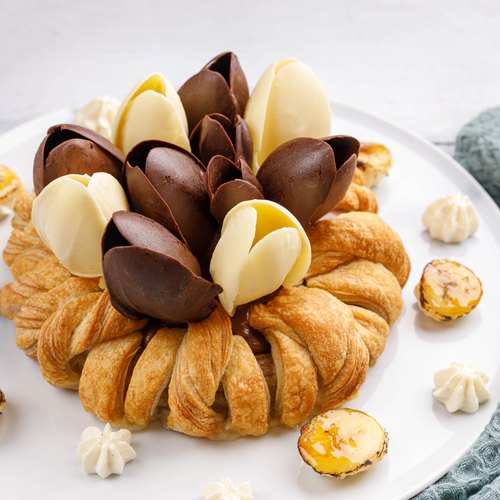 ---
Total time: 5 hours 25 minutes
Prep time: 35 minutes, Cook time: 20 minutes, Rest time: 4 hours 30 minutes
Ingredients for 5 people
1 puff pastry
4 bananas
3 1/2 oz of white chocolate
7 oz of dark chocolate
4/5 cup of heavy cream
1 tbsp of brown sugar
---
Tools
Blowtorch
Electric hand mixer
---
Step 1/4
Melt 3.5 oz of milk chocolate and heat the liquid cream. Add the melted chocolate to the liquid cream once it is hot. Allow to rest for 4 hours then beat the ganache with an electric mixer.
Step 2/4
Melt the rest of the dark chocolate, the white chocolate then pour each of the chocolates onto a plate. Dip the back of a spoon into the melted dark chocolate, then do the same with another spoon with the white chocolate. Repeat the process to have 12 spoons of each chocolate. Reserve the spoons for 30 minutes in the fridge.
Step 3/4
Take a lid then place it in the center of the puff pastry. Make slits all around the uncovered doug. Twist each strip on itself, place the bananas around the center of the dough then fold the twisted strips over the bananas. Prick the center of the dough with a fork then bake for 20 minutes at 350°F.
Step 4/4
Cut a banana into pieces, caramelize with brown sugar using a blowtorch. Pour the melted chocolate ganache in the center of the pie then set aside in the fridge. Unmold the chocolate from the spoons then weld each dark chocolate shell together using the rest of the melted chocolate. Repeat the process with the white chocolate and the white chocolate shells then arrange them on the ganache. Place the caramelized banana pieces on a line of whipped cream and enjoy!