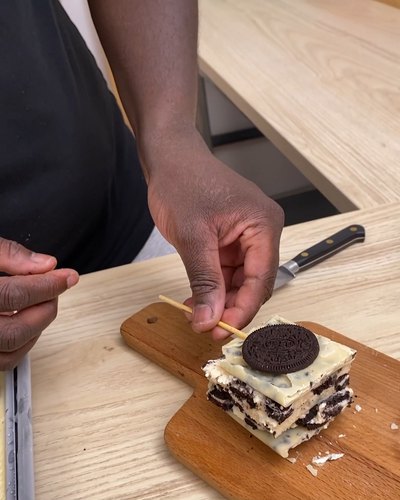 Oreo & baileys ice cream cookie
Oreo & baileys ice cream cookie! very simple, yet extraordinary :)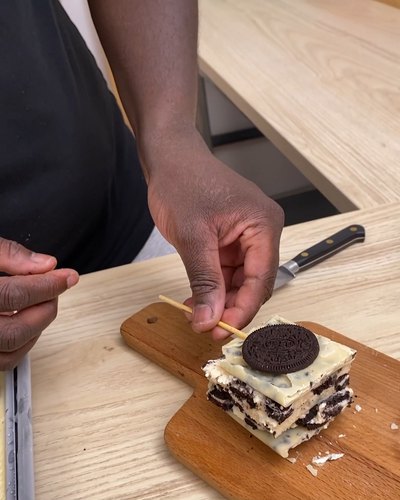 ---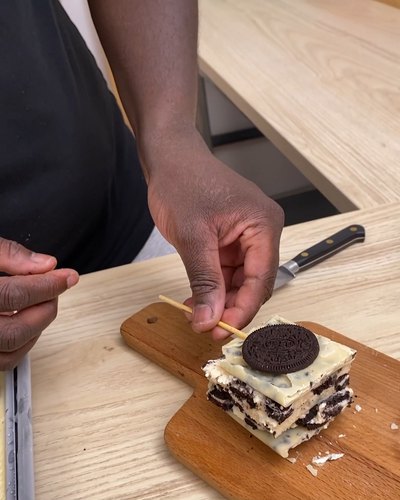 ---
Total time: 2 hours
Rest time: 2 hours
Ingredients for 6 people
1 pot of baileys ice cream
2 cups of cream
1/2 cup of condensed milk
0.4 cup of baileys
8 oreos
hershey's cookies and cream
---
Tools
Skewers
---
Step 1/4
On a Chefclub baking mat, pour Bailey's, whipping cream and sweetened condensed milk. Put this mat onto a larger plate full of water so that it forms an ice cube around it in the freezer. Put both plates in the freezer for about two hours.
Step 2/4
After an hour, the plate has almost set, crumble Oreos over it and then put it back in the freezer.
Step 3/4
Melt hershey's bars then make chocolate balls on a baking sheet. Plant a skewer into half an oreo to create a lollipop. Chill for 10 minutes.
Step 4/4
Cut ice cream plate into rectangles. Stick them onto the chocolate lollipops with a little melted white chocolate. Serve and enjoy!