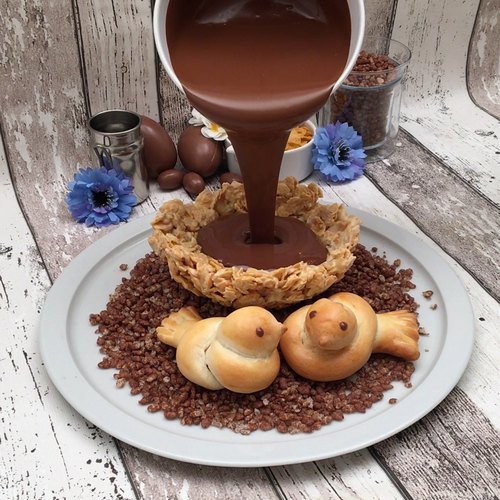 Birdcage Dessert
Free them, then taste them. 😉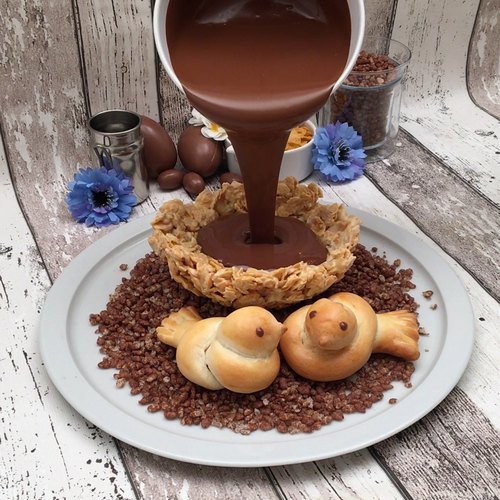 ---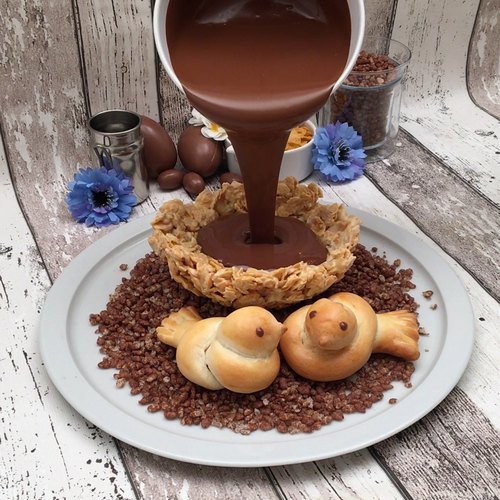 ---
Ingredients for 4 people
2/3 cup of white chocolate
2 1/2 cups of corn flakes
3 rectangular pizza doughs
4 egg yolks
2/3 cup of milk chocolate
8 chocolate ® chocolate mini eggs
1 cup of cocoa krispies ®
vegetable oil
---
Tools
Salad bowl
Baking tray
Parchment paper
Large pot
Aluminum mixing bow, the same diameter as the pot
Aluminum foil
---
Step 1/4
Mix the melted white chocolate with the corn flakes and place them in the bowl lined with parchment paper so that they fit snugly around the sides. Freeze for 30 min.
Step 2/4
Cut 1/4 of one of the pizza doughs lengthwise, then cut this strip and the remaining 3/4 into 4 widthwise. Form the small rectangles into balls. Fold the strips in 3 lengthwise and tie a simple knot with them. Place the balls on one end of the knot and cut the other end into strips without loosening them. Form a beak on the ball to finish the bird sculptures. Place on the baking tray lined with parchment paper, brush with egg yolk, and bake at 350 °F for 20 minutes.
Step 3/4
Turn the pot upside down and place the mixing bowl upside down on top. Wrap the whole thing with aluminum foil. Brush the aluminum with oil. Cut the remaining dough lengthwise into 3/4" wide strips. Arrange these strips vertically on the aluminum, from top to bottom, going around the pot. Add 4 rows of horizontal strips evenly from the bottom to the top. Brush with egg yolk then bake 20 min at 350 °F.
Step 4/4
Remove from the oven and paint birds eyes with melted milk chocolate. Place the corn flakes nest and the birds on a bed of Cocoa Krispies ®, pour the rest of the melted chocolate into the nest, place the mini eggs around the birds and cover with the cage. Enjoy by dipping the birds in the melted chocolate.