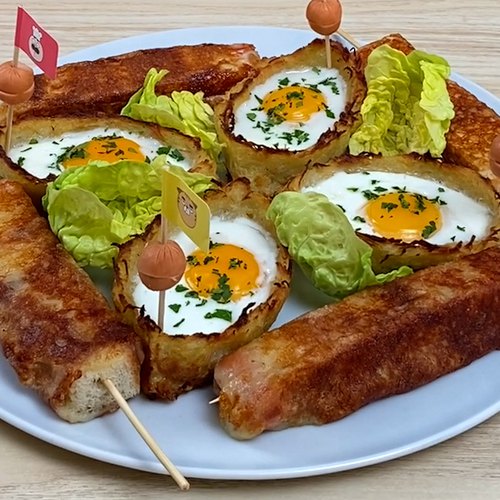 Hot Dog Breakfast Dunkers
With a hashbrown & egg breakfast boat 😍🍳🧀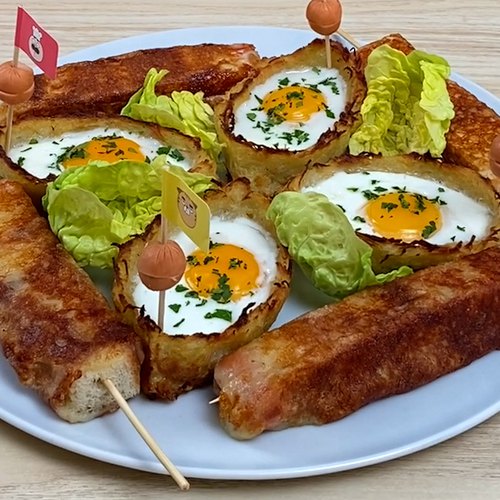 ---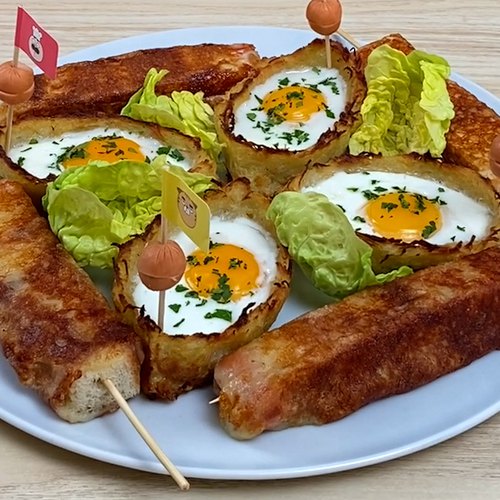 ---
Ingredients for 4 people
1 2/3 lbs of potatoes
5 eggs
2 tbsp of flour
2 slices of sandwich bread
4 hot dogs
2 1/2 cups of grated cheese
butter
salt & pepper
parsley
---
Tools
Foil
Grater
Skewer sticks
Toothpicks
---
Step 1/4
For the grated potatoes: take a sheet of foil and fold it to make a boat-shaped container and repeat until you have 4 boats. On a clean cloth, grate all of the peeled potatoes. When finished, roll up the cloth and squeeze out any excess liquid. Mix the grated potatoes with a pinch of salt and pepper, 1 egg, flour and a tablespoon of melted butter. Butter the foil boats and line them with the grated potatoes. Bake for 20 minutes at 400 °F.
Step 2/4
For the skewers: take the 2 bread slices and cut them into 4 long rectangles. Turn them so that the crust is on the bottom and arrange the hot dogs in between each column of bread. Insert the 4 skewers across the width, cut off the protruding ends of the hot dogs, and set aside. Then cut the bread square so that you have four skewers. Brown the skewers on all sides in butter. Melt a handful of grated cheese in a frying pan in the shape of a circle, place a skewer on one side and as soon as it clings to the cheese, roll it up to coat it. Repeat for each skewer.
Step 3/4
Pour one egg white into each boat and set the yolks aside on a plate. Cook the boats on a bed of water in a frying pan covered with a lid. Once the whites are opaque, add one egg yolk per tray and continue cooking until the eggs are set.
Step 4/4
Remove the potato boats from their foil and place them in the center of a plate with the skewers around them. Sprinkle with parsley and form balls with the leftover hot dogs, prick them with toothpicks and plant them in the potato boats. Dip the skewers into the eggs and enjoy!