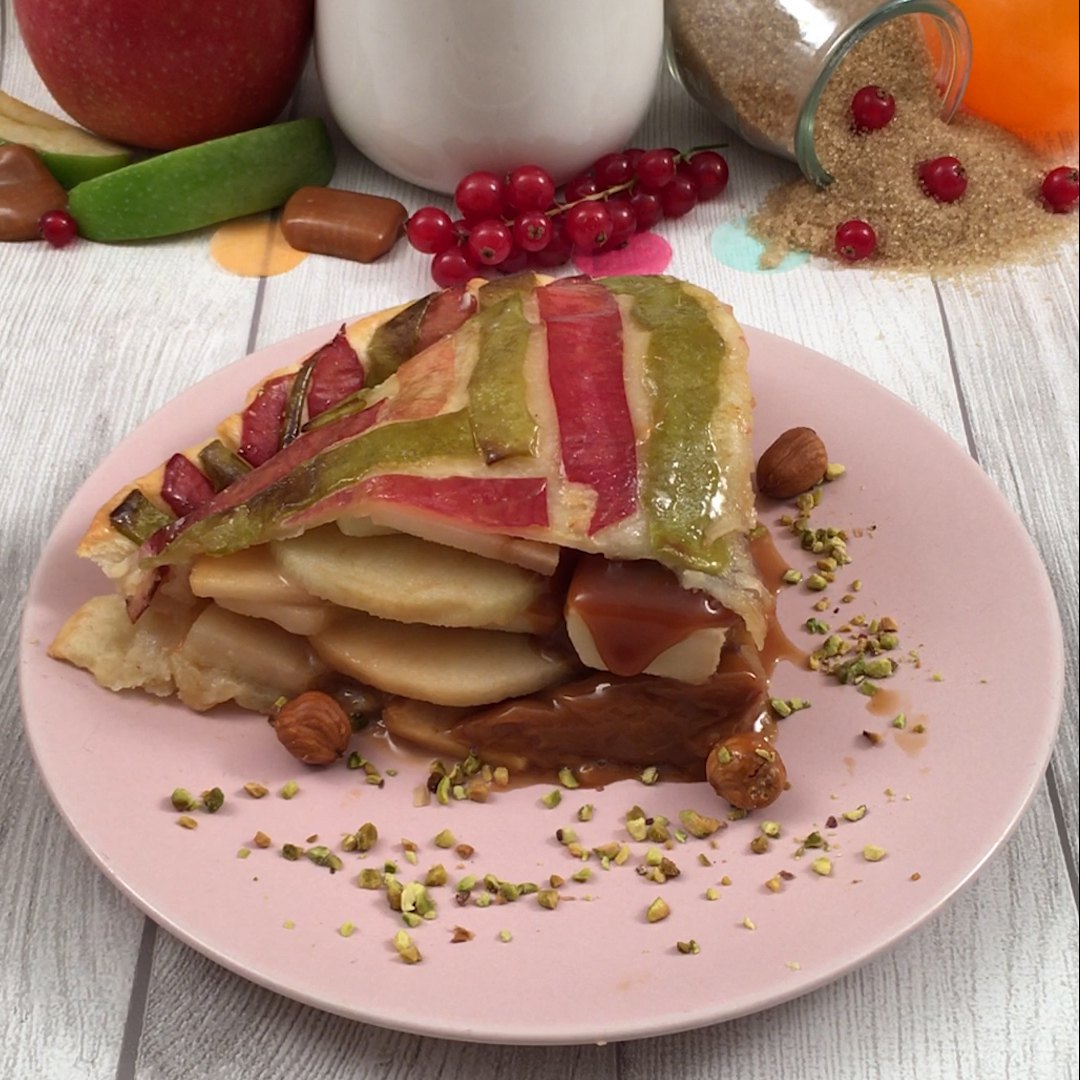 Caramel Apple Pie Dome
Full of color and flavor 🍎✨
Total time: 35 minutes
Ingredients for 6 people
4 red apples
4 green apples
1 1/4 cups caramel
2 pie doughs
Pie dough
1/2 cup lemon juice
---
Tools
1 small plastic water bottle
1 vegetable peeler
1 rolling pin
1 apple corer
1 salad bowl
1 pie pan
---
Step 1/4
Cut the top off of the water bottle and fill the bottom with the caramel. Freeze until solid.
Step 2/4
Wash the apples well and peel them in a single thin strip. Form an X of green and red peels in the center of one of the pie doughs. Place strips of apple peel parallel to the X on either side of the X, alternating the colors until they cover the whole dough. Roll the peels into the dough with the rolling pin.
Step 3/4
Core the apples. Cut the apples into medium-thick slices and place one in the center of the salad bowl. Halve the rest of the slices and arrange half of them in a circle around the first slice. Remove the caramel cylinder from the freezer, demold from the bottle, and place upright on the bottom apple slice. Arrange the remaining apple halves around it as fill the bowl.
Step 4/4
Place the 2nd pie dough in the pie pan and prick it with a fork. Place the dish upside down on the salad bow, flip the whole thing over, and remove the bowl. Place the decorated dough over the apple dome and seal the 2 doughs together around the edges. Bake for 25 minutes at 350 °F. Remove from the oven, slice, and enjoy.