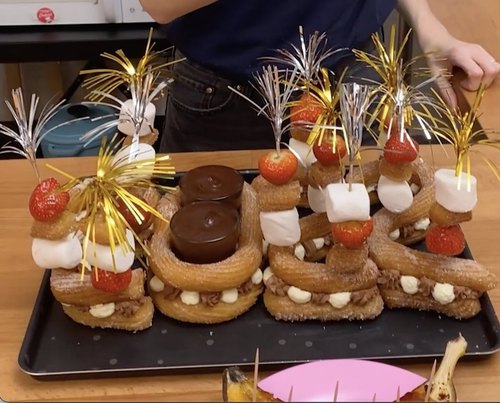 Happy New Year Churros
Happy New Year Churros! Bring in the new year with this chocolatey recipe 🍫🎊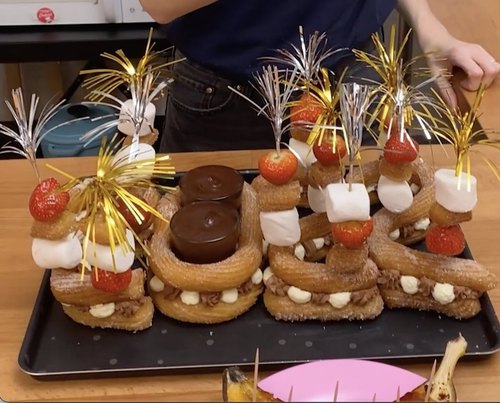 ---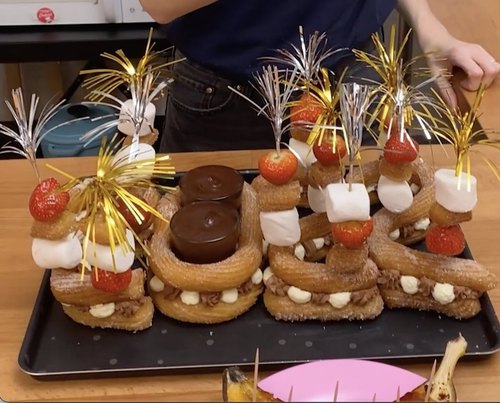 ---
Total time: 50 minutes
Prep time: 50 minutes
Ingredients for 6 people
1 cup of sugar
Salt
1 cup of flour
1 cup of water
5 tbsp of powdered sugar
2 1/2 cups of heavy cream
2 tbsp of cocoa powder
10 mini-marshmallows
1 cup of dark chocolate
10 strawberries
1 l of vegetable oil
1 tsp of cinnamon
---
Tools
Skewers
Pipping bag
---
Step 1/5
In a small saucepan, add the water, a pinch of salt, a pinch of sugar and some butter. Bring to a boil over medium heat. As soon as the water boils, remove the pan from the heat and stir in the flour. Stir continuously until a smooth dough forms. Turn the dough out into a bowl. Allow the dough to cool a bit. Fill a pastry bag fitted with a star tip. Pipe out the numbers 2022 onto a lightly greased muffin pan. Place in the freezer for 30 min. If you have 2 muffin pans then you can do both sets of 2022 at once.
Step 2/5
Heat oil to 375°F. Fry the chilled dough numbers and toss gently into cinnamon sugar. It is important to fry the numbers one at a time to ensure the temperature of the oil remains constant. Once the numbers are cooked, keep the oil hot and start making mini churro bites by piping the churro dough directly into the oil using a string or scissors to cut the dough into the desired length. Once cooked, toss the churro bites into the cinnamon sugar and set aside.
Step 3/5
Prepare the whipped cream and chocolate whipped cream by whipping together 2 cups of heavy cream and powdered sugar in 2 separate bowls. Add the cocoa powder to one of the bowls. Fill 2 piping bags with the whipped creams.
Step 4/5
Spread one set of the number churros onto a large serving dish. Decorate with whipped cream alternating chocolate and plain. Top each number with its corresponding number. Place the numbers into the refrigerator to chill. Open the bananas and leave them in the skin; slice inside the skin to create bite-size pieces. Sprinkle with sugar and caramelize the banana using a blowtorch. Stick toothpicks into each section. Make skewers for dipping with the strawberries, mini churro bites and marshmallows.
Step 5/5
In a small pot, heat 1/2 cup of cream until it begins to simmer and pour over the chopped chocolate. Stir until smooth. Place the caramelized bananas around the numbers. Stick the skewers into the numbers. Pour the chocolate sauce into the zero of 2022. Add some cake sparklers for some extra fun. Enjoy!