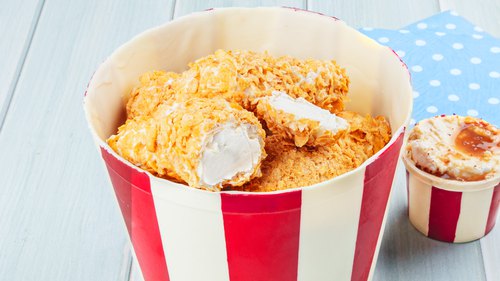 Colonel's Sundae Bucket
Colonel's Sundae Bucket! The perfect family treat 😍🍨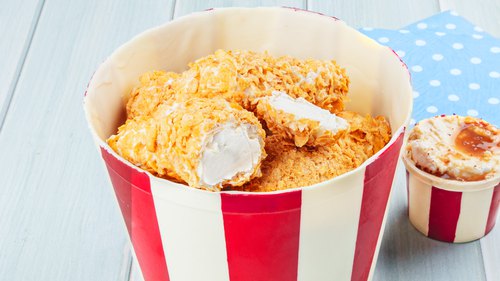 ---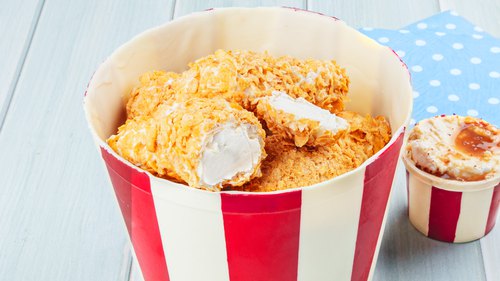 ---
Total time: 1 hour 25 minutes
Prep time: 15 minutes, Rest time: 1 hour 10 minutes
Ingredients for 5 people
3 cups of white chocolate
1/4 cup of red chocolate
1 container of chefclub vanilla ice cream
5 chocolate-covered cookies
2 cups of corn flakes
1 cheesecake
1/4 cup of caramel sauce
---
Tools
Tape
Paint brush
Cling wrap
KFC bucket
Mini bucket
Skewers
Ice cream scoop
---
Step 1/4
Take a clean and dry KFC bucket and apply tape inside to create wide even stripes. Pour the red chocolate in between the taped lines. Before the chocolate sets, carefully remove the tape. Allow the bucket to chill for 5-10 minutes for the chocolate to set. Pour the white chocolate into the bucket and turn the bucket around to coat the interior evenly. Place in the refrigerator for 30 minutes to set. Meanwhile complete the same process with the mini bucket. Once set, remove the paper bucket to reveal the striped white chocolate bucket. Keep in refrigerator until ready to serve.
Step 2/4
On the counter, place a square of plastic wrap. In the center, add 3 scoops of ice cream. Press a chocolate-covered cookie stick into the center for the bone. Fold the plastic wrap over and mold the ice cream into a drumstick shape. Place into the freezer for 30 minutes. Remove the ice cream bars one at a time from the freezer. Take off the plastic wrap. Stick the drumstick on a wooden skewer and dunk them in white chocolate to coat and immediately into the crushed cereal. Place in freezer.
Step 3/4
Using an ice cream scoop, scoop out large mounds of the cheesecake to fill the mini bucket. Cover in caramel sauce.
Step 4/4
Fill the chocolate bucket with the fried chicken ice cream bars. Serve with the mini cheesecake bucket. Enjoy!