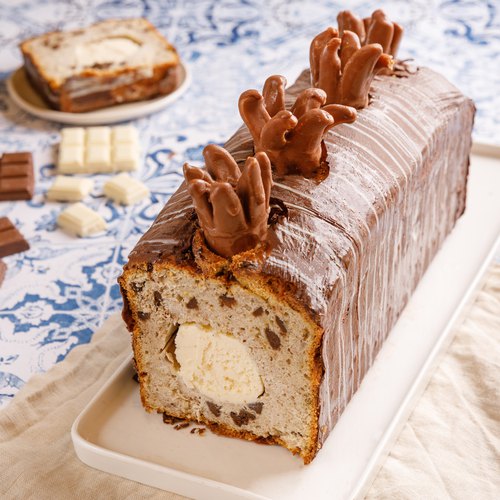 Chocolate Coated Banana Bread
Chocolate Coated Banana Bread! Filled with a sweet surprise 🤫🍌🍫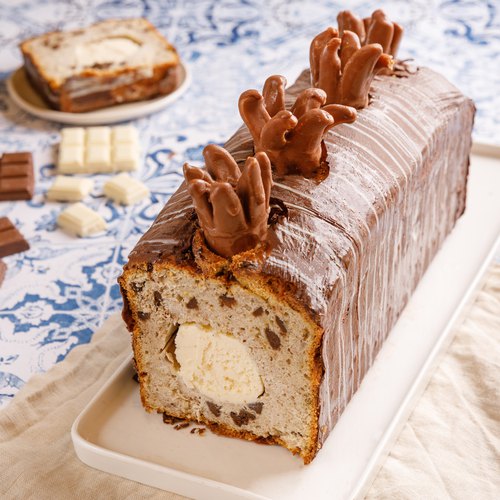 ---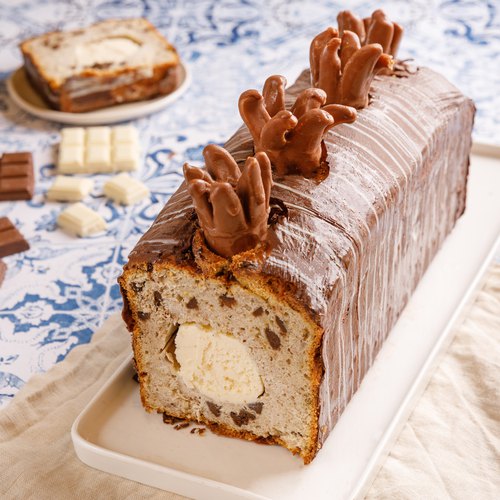 ---
Total time: 2 hours
Prep time: 1 hour , Cook time: 1 hour
Ingredients for 8 people
8 bananas
3 egg
9 tbsp of butter
1 cup of sugar
3 cups of flour
3 tsp of baking powder
3/4 cup of chocolate chips
7 scoops of chefclub vanilla ice cream
10 oz of milk chocolate
6 oz of dark chocolate
6 oz of white chocolate
---
Tools
parchment paper
Rolling pin or metal rod
Foil
Toothpick
Cling wrap
---
Step 1/6
Using your fingers separate the extremities of the bananas into 3 parts. Then using a knife separate each part into 2 sections. Cut off the banana flowers and use the leftover banana portions to make the banana bread.
Step 2/6
Wrap the rolling pin with aluminum foil. Grease a loaf pan and line with parchment paper. Preheat oven to 350°F. In a bowl mix the eggs, bananas, flour, sugar, butter and baking powder. Add the chocolate chips. Put a thin layer of cake batter in the bottom of the loaf pan. Place the rolling pin in the loaf pan then cover with the remaining cake batter. Bake for 1 hour.
Step 3/6
Remove cake from oven. Using a shot glass, make 3 indentation in the top of the cake for the banana flowers. Allow to cool completely before gently removing the rolling pin.
Step 4/6
Line the counter with plastic wrap. Scoop 7 balls of vanilla ice cream onto the plastic wrap then roll the wrap around the ice cream to create a log. Freeze until solid. Fill the cooled cake with the log of vanilla ice cream. Place the cake in the freezer.
Step 5/6
Melt the milk chocolate, then dip the banana flowers into the milk chocolate. Spread plastic wrap onto the counter. Using a freezer bag with with melted chocolate, make stripes on the plastic with melted white chocolate then repeat with melted dark chocolate. Pour the milk chocolate onto the plastic wrap then spread with a small spatula.
Step 6/6
Take the cake out of the freezer and using shot glasses, press down on the top of the cake to create an indention for the banana flowers. Place the cake on its side on top of the chocolate and pull the plastic wrap up over the cake to cover with the chocolate. Gently press down on the outside of the plastic wrap using a kitchen towel. When the chocolate is set, slowly pull off the plastic wrap. Decorate with chocolate covered banana flowers. Serve and enjoy!