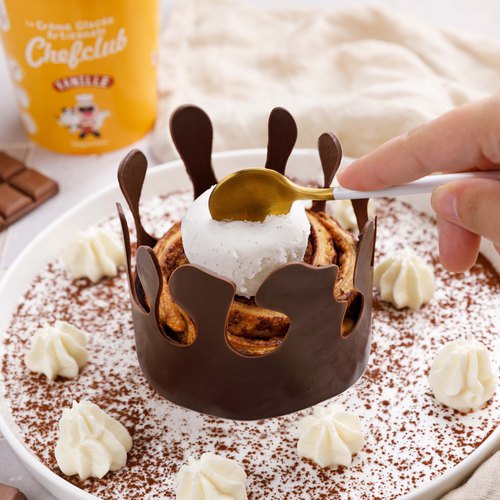 Chocolate Croissant Rolls
Chocolate Croissant Rolls! Too tasty to resist! 🍫🥐😍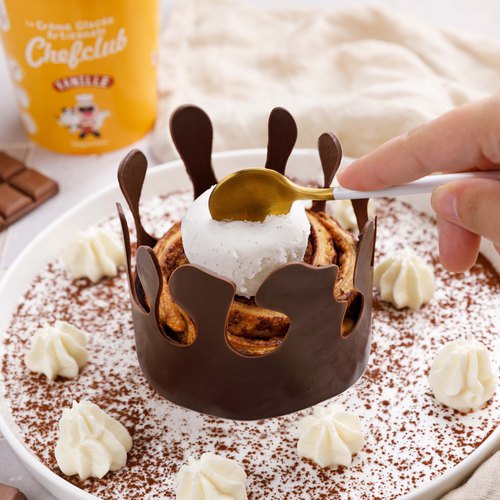 ---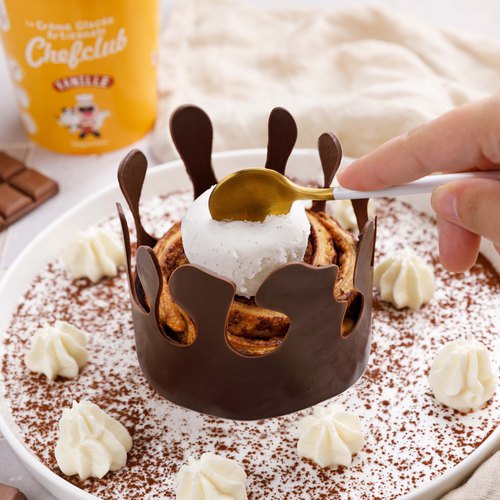 ---
Total time: 1 hour 15 minutes
Prep time: 35 minutes, Cook time: 20 minutes, Rest time: 20 minutes
Ingredients for 2 people
1 puff pastry
3 1/2 oz of cacao powder
3 1/2 oz of dark chocolate
1 pint of vanilla ice cream
2 croissants
---
Tools
Ramekins
Toothpicks
Ruler
Shot glass
Cacao box
---
Step 1/3
Sprinkle the cacao powder on the puff pastry and roll it out using a rolling pin. Cut 10 ovals in the puff pastry with the lid of the cacao box. Overlap 5 ovals, press down on one end with your thumb and then pass the ovals over your thumb to form a cone. Place a shot glass in place of your thumb, place the puff pastry in a ramekin then bake for 20 min at 320°F.
Step 2/3
Melt the dark chocolate. Place the plastic sheet protector on the worksurface and cut in 2 lengthwise. Open then pour the melted dark chocolate inside and spread it on one side using the ruler. Let the chocolate harden then draw a pattern with a toothpick. Close the plastic sheet protector, wrap it around the ramekin with a piece of tape, then refrigerate for 20 minutes.
Step 3/3
Place the decoration around the croissants, place a scoop of Chefclub vanilla ice cream on each croissant and enjoy!