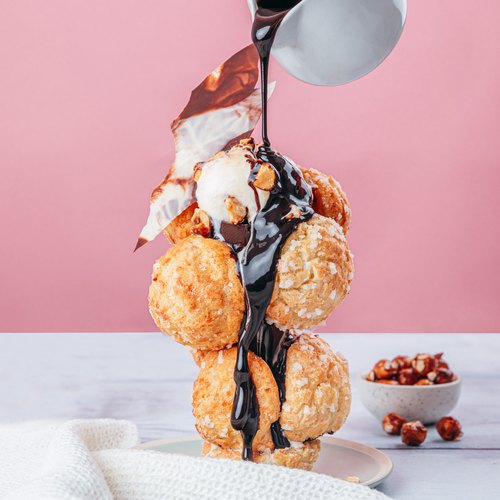 French Choux Ice Cream Cone
French Choux Ice Cream Cone! A creamy and chocolaty dessert 😋🍫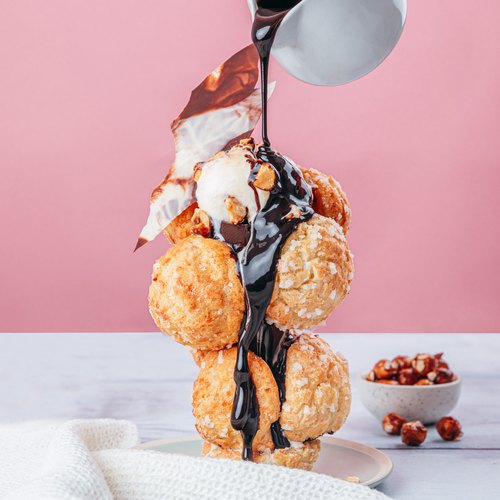 ---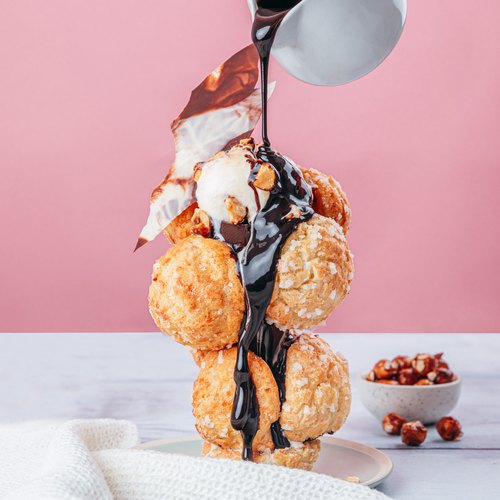 ---
Total time: 2 hours 10 minutes
Prep time: 40 minutes, Rest time: 1 hour 30 minutes
Ingredients for 3 people
3 scoops of vanilla ice cream
15 choux pastries
5.2 oz of dark chocolate
1 3/4 oz of milk chocolate
1 3/4 oz of white chocolate
Chocolate sauce
7 tbsp of hazelnuts
---
Tools
Plastic sheet protector
parchment paper
Balloons
---
Step 1/3
Inflate 6 balloons. Melt the white chocolate, the milk chocolate and 1.75 oz of dark chocolate and allow them cool. Dip the end of the balloons in each chocolate, then place the balloons on a plastic sheet protector to obtain marbled chocolate discs. Remove the balloons. Place the chocolate decorations on a plate and refrigerate.
Step 2/3
Make a cone with parchment paper and place it in a glass. Melt the remaining dark chocolate and fill the parchment paper cone. Pour a circle of chocolate on the plastic sheet protector. Pour the remaining chocolate into a container, then close the plastic sheet protecor and press down with a glass to form a disc of chocolate. Repeat the process to obtain 3 discs and 3 chocolate cones. Refrigerate for 1 hour.
Step 3/3
Unmold the chocolate cone, press the end of the cone on a hot plate and place the cone on the chocolate disk. Glue the choux pastries around the chocolate cones with the remaining melted dark chocolate. Place a scoop of Cheflcub vanilla ice cream in each cone. Add the crushed hazelnuts, marbled chocolate discs and a drizzle of chocolate sauce. Serve and enjoy!