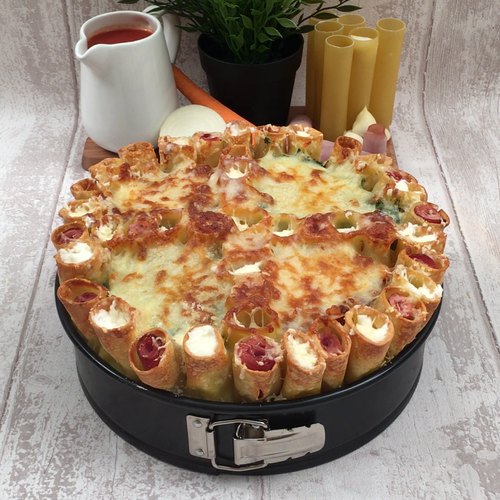 Fantasy Pasta Bake
Send noods! 🤪🍝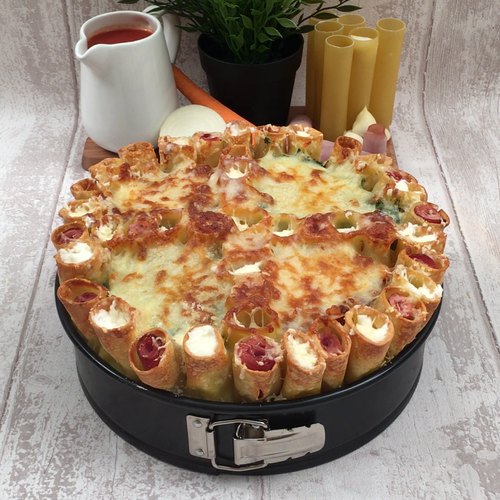 ---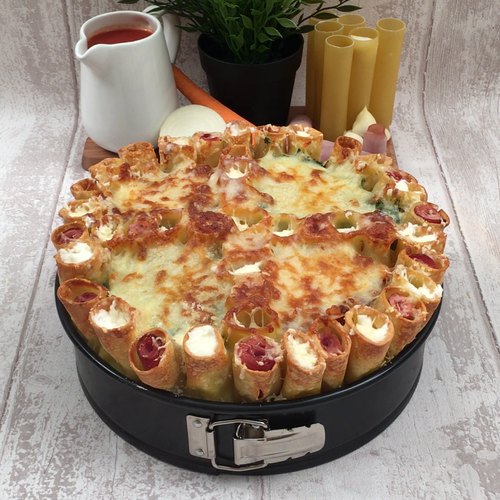 ---
Ingredients for 6 people
40 cannelloni or manicotti noodles, cooked
10 slices of ham
20 mini mozzarella balls
4 1/2 cups of spinach, cooked and drained
1 1/4 cups of ricotta
1 1/2 cups of parmesan, divided
1/2 lb of ground beef
1 onion, chopped
1 carrot, chopped
red wine, to taste
1 cup of tomato sauce
salt & pepper
olive oil
---
Tools
Skewers
9-inch springform pan
---
Step 1/3
Stuff half the pasta with rolled ham and the other half with mozzarella balls. Alternating between cheese and ham skewer 9 noodles on one skewer and 8 on another. In a springform pan, place the noodles in an X. Around the edge place the remaining noodles.
Step 2/3
Mix ricotta, spinach, 1 1/4 cup Parmesan, salt, and pepper in a bowl. Place this mix in two of the holes. In a pan, cook the onion with a carrot, olive oil, the ground beef, and red wine. When beef is cooked, add tomato sauce, salt and pepper. Place this mix in the remaining two holes. Then sprinkles everything with grated mozzarella and a little more Parmesan.
Step 3/3
Bake for 15-20 min for 350 ° F, or until cheese is bubbly and golden and spinach is heated through. Remove the skewers and slice or pull out noodles and dip. Enjoy!