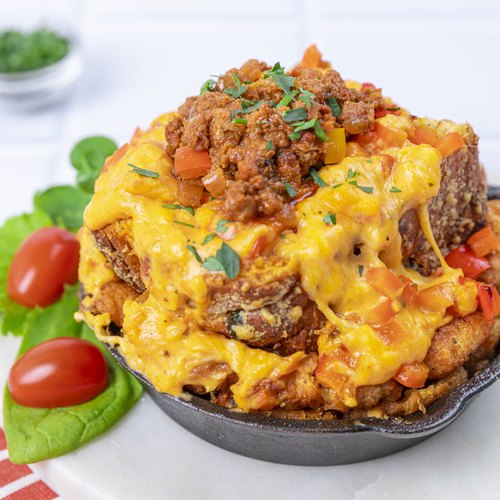 Sloppy Joe Hotdish
Sloppy Joe Hotdish! Served with crispy tater tots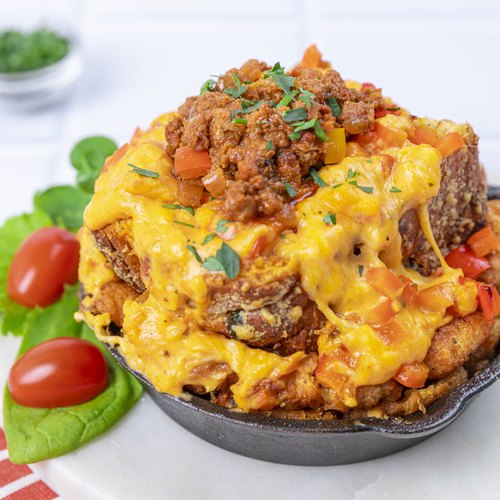 ---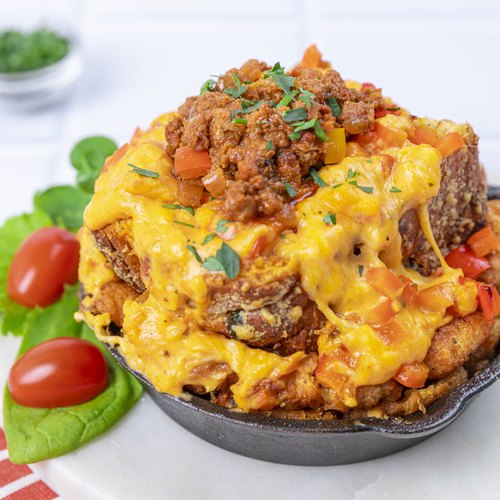 ---
Total time: 40 minutes
Prep time: 10 minutes, Cook time: 30 minutes
Ingredients for 4 people
Bread
Garlic oil
Parmesan
Roasted garlic
Sloppy joe mixture
Cheddar
Bacon
Tater tots
Pancake batter
Oil
Chili powder
Oregano
Basil
Beer
Bell peppers
Parsley
Cheese sauce
---
Tools
Mini cast iron skillets
---
Step 1/4
Dip the bread loaf in garlic oil, coat in grated parmesand and cut in half. Remove the crumb and garnish with roasted garlic, sloppy joe mixture, cooked bacon and shredded cheddar. Place on a baking sheet along with the other half loaf (which has been sliced). Bake in the oven until done.
Step 2/4
Coat the tater tots in pancake batter and fry in hot oil until golden brown. Toss the tater tots with chili powder, oregano and basil.
Step 3/4
Place the tater tots in a small skillet with shredded cheddar. Press dowl with a small bowl, fill with shredded cheddar, cheese sauce, beer and bell peppers. Bake in the oven until the cheese has melted.
Step 4/4
Place a slice of the sloppy joe bread on the tater tots and pour the cheese sauce over everything. Sprinkle with parsley, serve and enjoy!