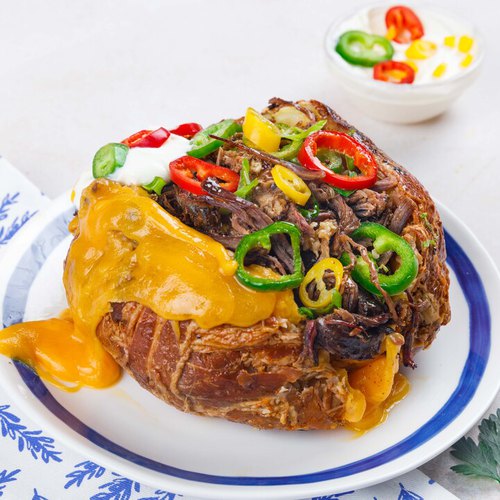 Loaded BBQ Bacon-Wrapped Baked Potatoes
Loaded BBQ Bacon-Wrapped Baked Potatoes! It's smokin' delicious 🙂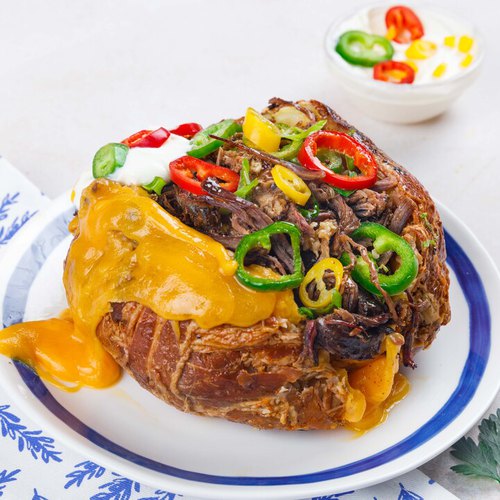 ---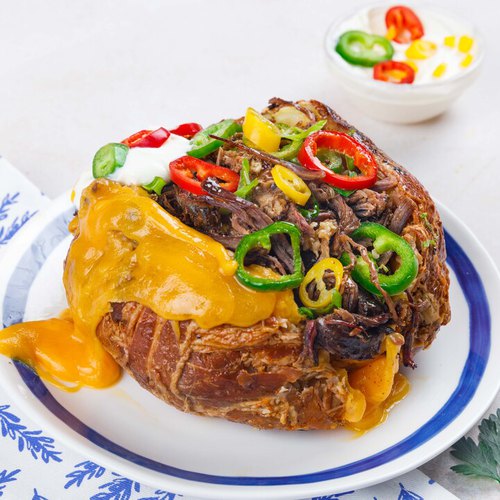 ---
Total time: 12 hours
Cook time: 12 hours
Ingredients for 4 people
1 beef ribs
1 cup of bbq mix
1/4 cup of whiskey
4 potatoes
2 cups of melted cheddar cheese
2 tbsp of green onions
4 tbsp of sour cream
2 sliced jalapeños
1/4 cup of butter
28 slices of bacon
2 cups of bbq sauce
---
Tools
Aluminium foil
Skewer
Pipette
Plastic wrap made for cooking
Apple corer
---
Step 1/4
Take the beef ribs and stick wooden skewers in a line all over the top layer of the meat. Create holes for the whiskey pipettes. Remove the skewers and replace with the whiskey pipettes, squeeze whiskey into the meat and remove. Rub meat with a dry bbq rub all over. Cover with foil and bake at 275 °C for 9-12 hours.
Step 2/4
Poke holes in potatoes with a fork. Place them in the oven for 30 minutes to precook them. Remove from oven and using an apple corer remove the center of the potatoes. Slide in a thin butter stick into the hole.
Step 3/4
Place potato on a sheet of bacon strips that are laying on some plastic film. Wrap the potatoes in bacon and remove the plastic film. Using a fork, dip the baconed potatos in bbq sauce until fully covered. Wrap aluminium foil. Bake 30 minutes at 350°F. Remove foil and bake 10 additional minutes until the bacon is crispy.
Step 4/4
Remove from oven and cut the potatoes open. Fill with melted cheddar, sour cream, green onion, the shredded beef rib meat and jalapeños. Enjoy!