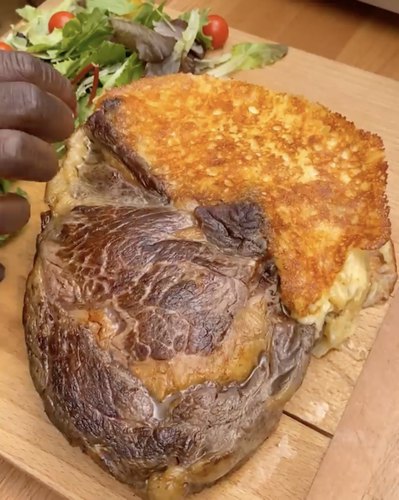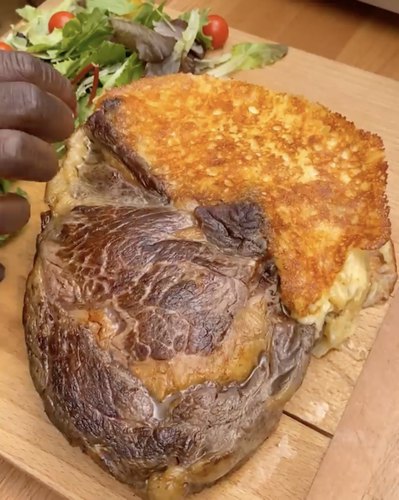 ---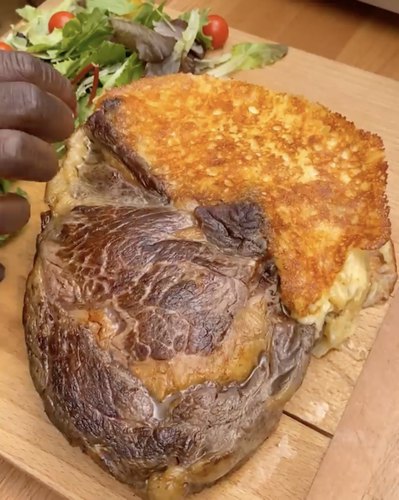 ---
Total time: 1 hour 25 minutes
Prep time: 35 minutes, Cook time: 50 minutes
Ingredients for 2 people
5 cups of elbow pasta
1 cup of sour cream
1 onion
4 cups of cheese
1 cup of shredded cheese
1 prime rib
1 pinch of salt
2 tbsp of butter
---
Tools
Aluminum foil
Toothpicks
---
Step 1/3
Cut the cheese into pieces. Cook the pasta in 1 liter of boiling water. Slice the onion and caramelize it in a pan. Mix in the pasta, onions, sour cream and pieces of cheese. Spread the mixture in a pan and season with salt and pepper. Cover with grated cheese and bake for 20 minutes at 350°F.
Step 2/3
Sprinkle a pinch of salt on the prime rib. Form a strip of aluminum foil and place it around the prime rib; using toothpicks to form a handle. Pepper the prime rib, then cook it until done.
Step 3/3
Fill the space between the foil and the prime rib with grated cheese. Scoop some of the pasta on top of the grated cheese. Sprinkle with additional grated cheese. Brush the prime rib with butter. Turn to cook the other side. Serve with salad and enjoy!