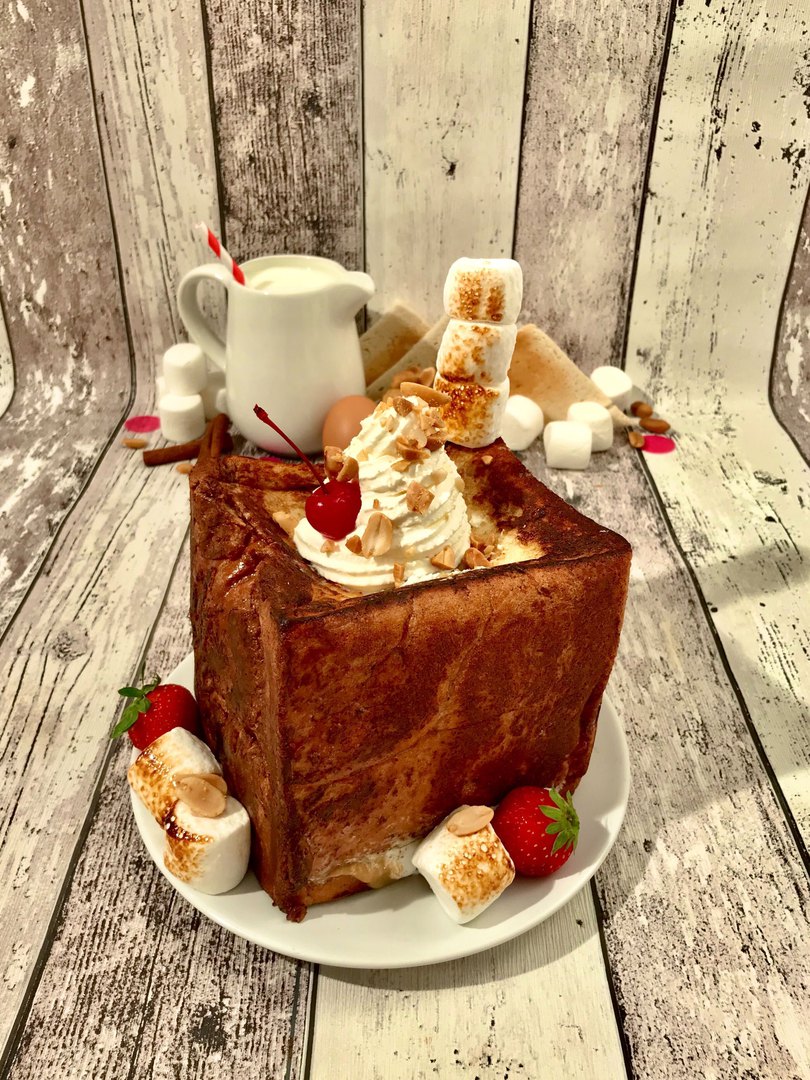 Mega Fluffernutter French Toast
Stuffed French toast is the reigning champion of breakfast! 🥇🍞😁
Total time: 30 minutes
Ingredients for 4 people
Loaf of sandwich bread
Marshmallow fluff
Peanuts
Peanut butter
1/2 cup of heavy cream
5 eggs
1 tsp vanilla extract
2 tbsp cinnamon
1/4 tsp salt
Whipped cream
Maraschino cherries
Toasted marshmallows
---
Tools
Toothpicks
---
Step 1/4
Cut the ends off of the loaf of bread. Cut the remaining loaf in half. Cut a square from the center of each half and remove the top portion. Press the inside of the bread down towards the bottom of the bread in each half.
Step 2/4
Add a layer of fluff to the center of the bread and smooth. Sprinkle with peanuts and add a layer of peanut butter on top. Repeat the layers until the center is full. Place the end back on top and secure it with toothpicks. Repeat with second half loaf. Set aside.
Step 3/4
Make the French toast mixture by combining eggs, cream, nutmeg, vanilla, salt and cinnamon. Whisk well to incorporate. Melt butter in a frying pan and dip each side of the bread cubes into the egg mixture. Fry on each side until golden brown.
Step 4/4
Top the French toast cubes with whipped cream, toasted marshmallows, salted peanuts and maraschino cherries.