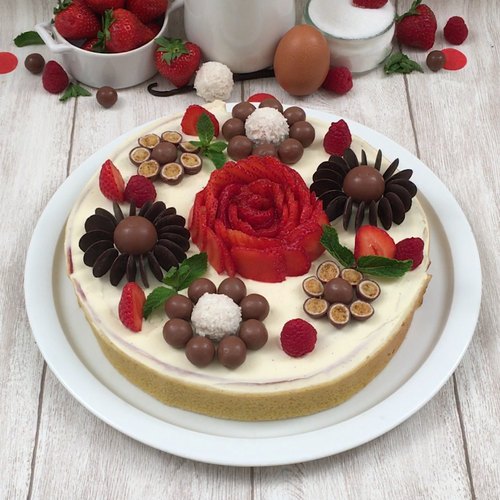 Rolled Strawberry Cake
It goes right round, baby, right round! 🍫😍🍓🌀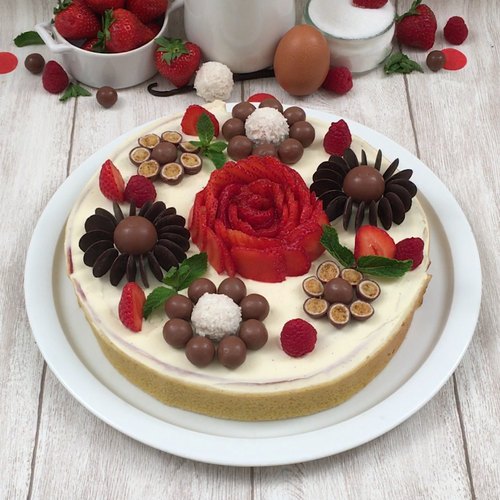 ---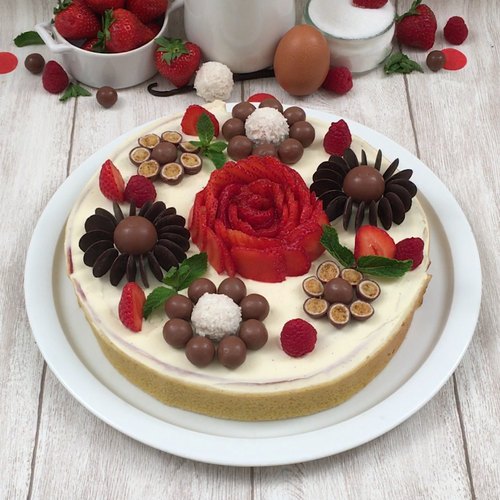 ---
Ingredients for 8 people
6 eggs
5 1/2 tbsp of sugar
2 tbsp of honey
1 2/3 cups of flour
3/4 cup of almond meal
1/3 cup of butter
salt
2 1/2 cups of whole strawberries, plus extra for decorating
strawberry jam
sweet mascarpone cream
chocolate candies
raspberries
mint leaves
---
Step 1/3
Mix together eggs, sugar, and honey until frothy. Then fold in flour, almond meal, butter, and a pinch of salt. Once combined, spread onto a lined baking sheet. Bake for 12 minutes at 350 °F.
Step 2/3
In a small saucepan over medium heat, stir together 2 1/2 cups of strawberries with strawberry jam until a sauce forms. When the cake is baked and cooled, cover it with the strawberry sauce. Refrigerate for 20 minutes. When it's ready, cover the strawberry jam layer with sweet mascarpone cream. Refrigerate for 20 more minutes.
Step 3/3
When the cake is chilled, cut it into equal strips along the widest part of the cake. Using a glass, roll up two strips. Place the roll-up in the center of a plate. Wrap the other strips of cake around the first two, creating a spiral. Fill the center with strawberries. Cover the top with sweet mascarpone cream. Make a rose by rolling up slices of strawberry and place the rose in the center of the cake. Create flowers using chocolate candies and raspberries. Enjoy!