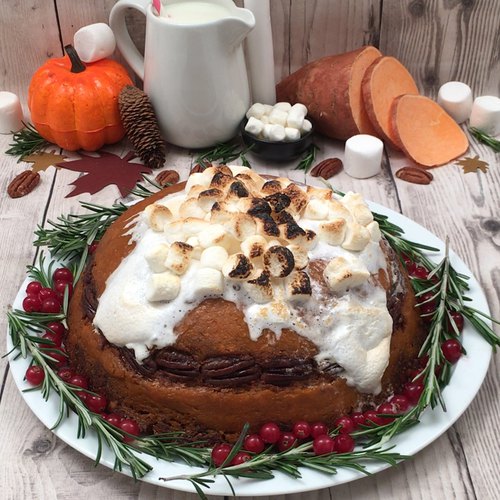 Mt. Casserole
Thanksgiving sweet potatoes with a twist! 🌋😋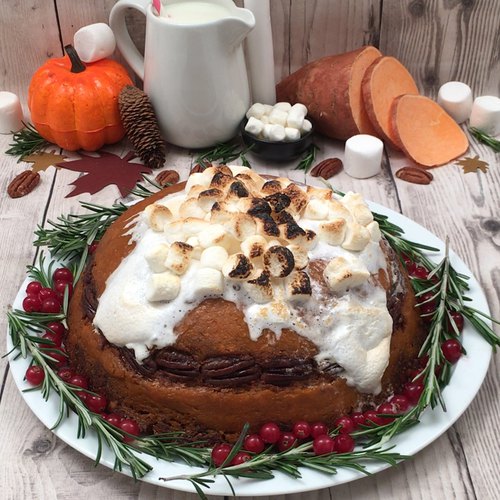 ---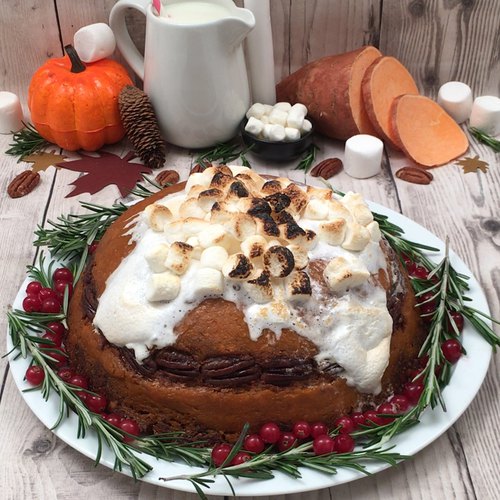 ---
Total time: 1 hour 30 minutes
Ingredients for 6 people
3 large sweet potatoes
olive oil
salt
2 eggs
1 1/3 cups of brown sugar, divided
1/2 + 2/3 cup flour, divided
1 cup of butter, divided
1 tsp of vanilla extract
mini marshmallows
1 cup of pecans
---
Tools
Large oven-safe bowl
Oven-safe glass
---
Step 1/4
Place the sweet potatoes on a baking sheet covered with parchment paper, add a drizzle of olive oil and 1 TSP salt, and bake for 45 minutes at 425° F. Take the sweet potatoes out of the oven, peel and mash.
Step 2/4
Add eggs, 1/3 cup brown sugar, 1/2 cup flour, 1/2 cup melted butter, vanilla extract, and 1 TSP salt to the purée and mix.
Step 3/4
Fill the tall glass with mini-marshmallows and grease the sides. Place the salad bowl upside down on top of the glass and flip, so that the glass is upside down at the bottom of the bowl. Grease the bowl with non-stick spray. Spread half of the purée at the bottom of the bowl around the glass.
Step 4/4
Line the edge of the salad bowl with pecans. Crush remaining pecans and mix with remaining butter, flour and brown sugar, and spread half of this pecan mixture over mashed potatoes. Cover with remaining mashed potatoes and remove the glass from the center. Completely cover the purée with the remaining pecan mixture and bake for 1 hour at 350° F. Once out of the oven, turn the bowl over to unmold the cake and remove the glass. Add mini-marshmallows to the center hole and bake for 5 minutes at 350° F. Cut into pieces and enjoy!