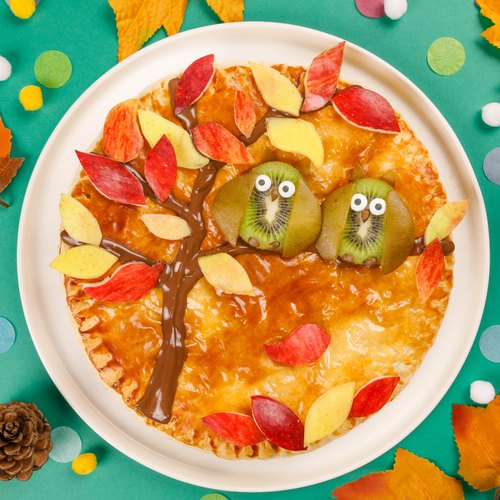 Owl Yours Apple Pie
Owl Yours Apple Pie! Owl you need is this sweet recipe 😋🦉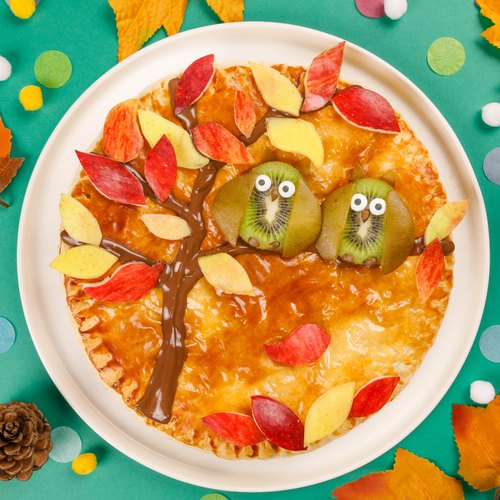 ---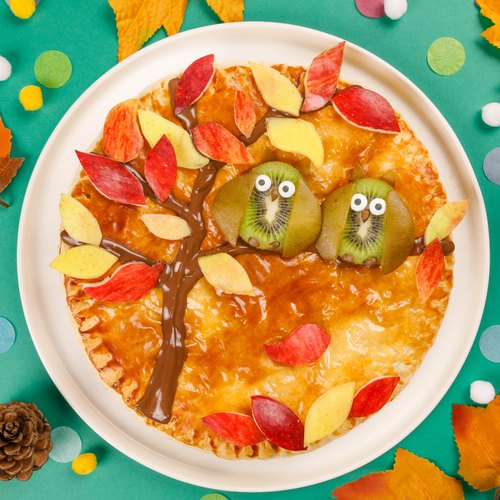 ---
Total time: 1 hour 20 minutes
Prep time: 35 minutes, Cook time: 45 minutes
Ingredients for 6 people
2 puff pastry
6 apples
1 tsp of sugar
1 tsp of vanilla sugar
1 egg yolk
1 vanilla bean
2 oz of milk chocolate
1 kiwi
4 sugar decorations
---
Tools
Mustache cookie cutter
Ziploc bag
---
Step 1/4
Cut the apples into pieces, peel the skin then form leaves with the apple skin using the mustache cookie cutter. Rinse the apple skin leaves in 1 liter of lemon water. Place 3 chefs of apples in a hot saucepan, add 1 hen of sugar, 1 hen of vanilla sugar and 1 hen of water. Cover with a lid then simmer for 20 minutes to obtain a compote.
Step 2/4
Crush the compote and leave to cool for 30 minutes. Roll out the puff pastry, spread the compote in the middle, brush 1 hen of water around the edge then cover with the other puff pastry. Cut the edge of the pastry, seal the 2 puff pastry together by pressing down with the handle of the hen cup. Brush the puff pastry with egg yolk then bake for 30 minutes at 390°F.
Step 3/4
Melt 1 cat of milk chocolate and pour it into a ziploc bag. Cut the bottom corner. Form a tree with the melted chocolate on the apple pie. Cut 2 slices of kiwi, cut 4 parts of the remaining kiwi skin and 4 small triangles.
Step 4/4
Place the kiwi slices on the apple pie and cover each side of the kiwis with the kiwi skin. Place the small pieces of kiwi skin on top of the kiwis to form ears. Place the sugar eyes to form the kiwi owls. Arrange the pieces of apple skin on the branches of the chocolate tree and the apple pie. Serve and enjoy!