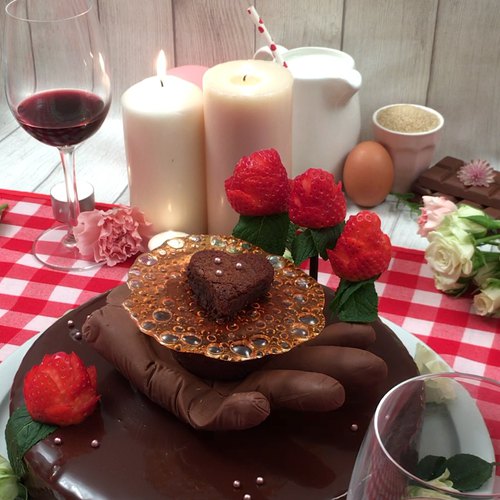 Hands of Love
Hands of Love! Reach out and touch this! 🖐❤️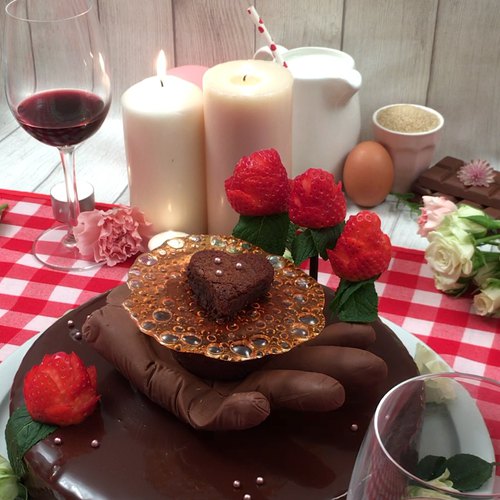 ---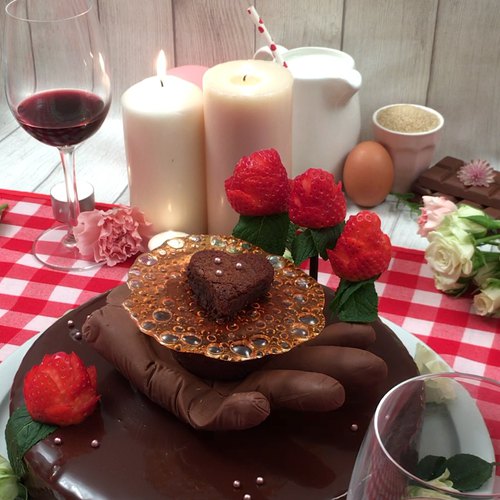 ---
Total time: 45 minutes
Prep time: 5 minutes, Cook time: 5 minutes, Rest time: 35 minutes
Ingredients for 2 people
1 chocolate cake
1 chocolate muffin
5 jolly ranchers
3 pocky sticks
3 strawberries
Sugar pearls
Mint
18 oz of milk chocolate
---
Tools
Disposable gloves
parchment paper
Plastic bottle
Stapler
Ring
---
Step 1/4
Place the glove in a tall glass and flip the edges of the cuff over the edge of the glass to hold the glove open. Fill the glove with 9 oz of melted milk chocolate. Take the glove out of the glass, tie the opening and spread the chocolate evenly in all the fingers. Place the glove with the palm on a clementine and the fingers on a wooden spoon slightly raised to curve them. Place in the fridge for 20 minutes.
Step 2/4
Cut the top and bottom of the plastic bottle to keep only the central cylinder. Open this cylinder in 2 by cutting it lengthwise. Bend the cut edges inwards to form a heart and fix them together with the stapler. Cut off the top of the chocolate muffin then remove a heart in the middle of the muffin with the bottle shaped cookie cutter.
Step 3/4
Place the jolly ranchers on a baking tray lined with parchment paper then bake for 5 minutes at 350°F. Allow the disc of melted candy to cool. Cut the strawberries to make roses. Plant these roses on pocky sticks with mint leaves at the base.
Step 4/4
Cover the chocolate cake with 9 oz of melted milk chocolate then let it set for 15 minutes. Unmold the chocolate hand from the glove and place it on the cake, palm up. Place the muffin in the hand, the ring in the muffin and the candy disc on top. Place the muffin heart on the disc, decorate with sugar pearls and plant the strawberry roses in the cake. Serve and enjoy!