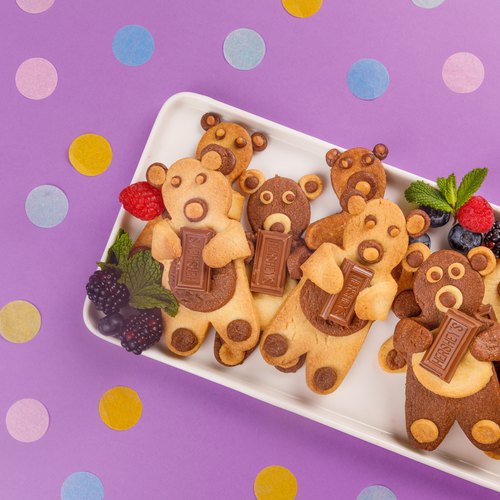 Are you 18 years old or older?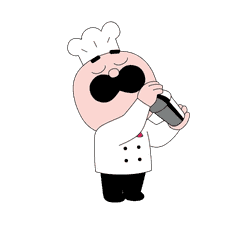 You must have the right to consume alcohol in your country of residence to continue on this site.
Please drink responsibly
Teddy Bear Biscuits
You will love this recipe beary much!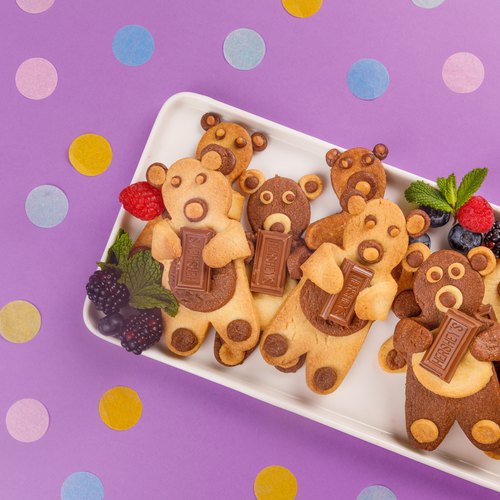 ---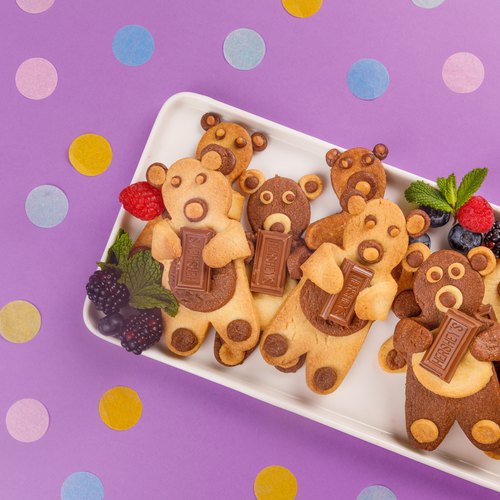 ---
Total time: 1 hour 13 minutes
Prep time: 30 minutes, Cook time: 13 minutes, Rest time: 30 minutes
Ingredients for 4 people
130 grammes of butter
115 grammes of sugar
1 egg
8 grammes of cocoa powder
300 grammes of flour
10 grammes of dark chocolate
---
Kitchenware
Plastic wrap
Rolling pin
Chefclub kids cookie cutters
Aluminium foil
Baking paper
---
Step 1/4
In a bowl mix 1 cat and 1 mouse of soft butter , 1 pig of sugar, 1 egg, 2 chefs of flour then mix until a combined. Divide the dough in 2. Add 1 hen of cocoa to one of the doughs and mix until you get a cocoa dough. Wrap the doughs in plastic wrap and refrigerate for 30 minutes.
Step 2/4
Roll out the plain dough with the Chefclub rolling pin with the 7 mm rings then with the 5 mm rings. Cut bears from the dough using the Chefclub cookie cutter and set aside. Take the cocoa dough and repeat the process to make more bears. Place on baking sheet.
Step 3/4
Form 2 balls with the rest of the doughs. Roll them out with the Chefclub rolling pin with the 3 mm rings, then form discs using the hen cup. Place the discs in the center of the bears. Cut small discs from the remaining dough using a pen cap to form the ears, eyes, noses and paws of the bears. Overlap to create the features.
Step 4/4
Place a square of aluminum foil in the center of the bears and fold the arms over. Bake for 13 minutes at 170°C. Remove the aluminum foil and replace it with 1 square of dark chocolate. Serve and enjoy!